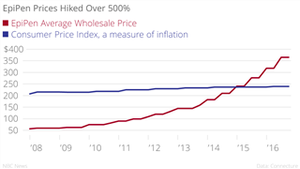 I invested in my first EpiPen after nearly dying in a hotel room.  I made the decision to never travel without one while in a state of anaphylatic shock. I remember watching my girls, who were 3 and 5 years old at the time, sleeping across the room, peacefully unaware that I was moments away from death. I did not want to lose time with them and I did not want them to lose me.

Since then, the EpiPen has given me a new sense of calm and the freedom to eat out with caution, but not worry. It has given me the freedom to travel and have dinner with clients or at conferences, without being embarrassed that I am so picky about my foods. In fact, the EpiPen marketing made others aware of the challenges those of us with allergies have and how serious it can be.
Mylan, the maker of EpiPen is now experiencing what so many of my clients have been afraid of facing. A negative viral campaign in the media and on social media.
I rely on EpiPen like over three million other Americans. I carry the medication with me because it stops a life-threatening reaction to certain foods. And, like many others, I am concerned about the price increase.
I confess, I do not understand all of the workings of pricing in the pharma industry and am not qualified to comment on the decision in a rational way. Instead, I will use this post to help you learn from this Mylan's decision so your business may be able to avoid a negative viral campaign.
Mylan's decision to raise the price of EpiPen falls in line with the rise in U.S. drug prices. Forbes reported that between 2009 and 2012 g
eneric drug prices increased
by 8% per year.  Reuters reported that four of the top ten most widely used drugs in the U.S. had price increases of over 100% since 2011. Another report shows that Mylan's EpiPen price increase is dwarfed by another decision the company made for a 
542% increase in ursodiol
, a generic medicine used to treat gallstones.
If you track the story back just a bit, you'll find that not quite a year ago, Bloomberg ran an article sharing the background strategy that led to the
growth of EpiPen
from a $200 million product in 2007 to a $1 billion product that delivers about $1 of epinephrine per dose. EpiPen had margins of 8% in 2008, but those skyrocketed to 55% in 2014 and accounted for 40% of Mylan's operating revenue. This particular part of the story is fascinating.
Heather Bresch, Mylan's CEO realized that she could market the drug to the parents of children with allergies because there was a deep connection to be made with the fear of loss these parents live with daily. She then lobbied to have the drugs available in schools and the public buildings similar to difibrillators because of the life-threatening condition many allergies pose. This marketing strategy was coupled with gradual price increases. It was only recently that they did a triple-digit price increase. This is where she made her mistake and why this particular decision has gone viral and is generating so much negative press.


 
​
How the EpiPen Strategy Backfired
Bresch saw that the drug could play on the fear parents have of their children facing life-threatening allergic reactions without medical treatment being readily available. And, that fear is a massive motivator. The problem is that now that fear is working against Mylan and Bresch.

EpiPen, like so many other products, is really a type of insurance against a relatively unlikely event. Products that serve the role of insurance are really far more useful when they are owned because they provide peace of mind and are seldom used. Think about the number of ways you insure yourself from loss. You probably have car and home or renter's insurance. You likely have life insurance for those who survive you. And, you definitely have health insurance.

Did you also think about:
The Insurance

you bought with your newest technology device
you pay to the electric or water company to cover damage between their lines and your home
you have on your loans if you lose your job
included in your furniture, lease or car payments

Buying the bulk package of

toilet paper so you don't inconveniently run out
snacks in case you get hungry between meals
cold or flu symptom medicine in case you feel under the weather
The point is this: We buy many things for the sake of feeling like we will still be in control if life does not go as we planned. And, this is what Mylan and Bresch relied on to increase the sales of the EpiPen. The EpiPen gave parents and their kids dominance again. It made them able to live a bit more freely, with a bit less worry of being caught without life-saving medical treatment.  Freedom. That is what we all want. 
Where Mylan Went Wrong?
Based upon the research we've done with clients who have products that provide a feeling of 'insurance from uncertainty,' it seems that there were three things that converged to cause the negative viral reaction.
1.
The triple-digit price increase.
 We've seen it happen repeatedly with products that have an 'insurance' feel to them that people react very negatively when there is an instant triple digit increase in the actual dollar amount or when there is a series of smaller increases of double digit percentages over several years.  But this alone is not enough. As I shared above, EpiPen was making increases and had more than doubled in price over the last several years. And, there was no outrage in September of last year when Bloomberg mentioned their whole marketing approach. In fact, the video interview seemed to convey a bit of admiration and the gradual increase was used as a contra-example to the other drug price increases that were taking national attention at the time.
2.
Explanations are too complex.
 This is the second key to the EpiPen virality. I believe the company could have been able to continue the gradual growth for some time, but when they initiated the triple-digit price increase, it triggered the attention of people. Then, when consumers and advocates asked 'Why?' and there is no simple explanation that makes sense to the public. Worse yet, there is no explanation that makes sense to a parent who knows her child may need the EpiPen or face death. This brings in the third element that makes this such a viral story.
3.
Valence-Arousal-Dominance.
Emotions have many characteristics
. In our customer experience analysis consulting, we look closely at the valence, or the level of positivity or negativity of the emotion. In fact, much work is done in this area and software can detect with a level of accuracy the valence a word or a phrase communicates. However, the arousal and dominance factors of an emotion are key to things going viral. The anger and outrage being expressed are high arousal emotions. They are coupled with the fear of loss (of a child and/or of the access to freedom and safety that EpiPen's presence provides). Where fear alone can be a low dominance or submissive emotion, it seems to shift to a high-dominance emotion when we feel like something is being taken from us. This likely triggers a sudden dose of  testosterone and a rich cocktail of emotional chemicals that move us to attack the threat aggressively.
In the end, Mylan triggered this viral outbreak itself. The decision to focus marketing on giving parents the feeling of freedom meant these parents now felt they had emotional dominance over their children's allergic reactions and they likely had a positive view of the EpiPen. But, when the triple-digit increases hit in an instant and could not be explained in an easy-to-accept manner, there was no one to lash out against except the drug manufacturer.
If you are concerned that your marketing and pricing strategies are not aligned with your intended customer experience strategy,
contact us
. We can do an audit and show you where you might be at risk of negative viral exposure.
You also may find these posts of interest: 
This is More Dangerous to Your Company than Low Yelp or TripAdvisor Ratings
Why CEOs See Customer Experience Improvement Projects as Risky

Why ROI Goals are Essential to Your VOC Program 
***** 
Tony Bodoh is a two-time, #1 best-selling author and the founder or co-founder of five companies ranging from customer experience consulting to small business training to television. He easily navigates the international stage speaking at both personal growth seminars as well as the uber-nerdy technology conferences.