Brussels sprouts. As a kid I HATED them. Their bitter taste was too much to tolerate. And, they were either boiled to a green pulp or they were still as hard as a leafy rock.
My Unbelievable Experience
These were not brussels sprouts. They couldn't be!
Roasted to perfection. Topped with hickory smoked bacon and drizzled with maple glaze. These were prepared for the culinary gods.  My server told me I chose the best appetizer as she nearly swooned thinking about them. She even confirmed my order was right by telling me she was having them for her dinner once her shift ended in fifteen minutes.  Then, unsolicited, another server walked by and told me they were the best item on the menu. I am sure I heard his stomach growling as it coveted my brussels sprouts. I felt compelled to offer him a few, but I selfishly resisted.  If you're ever on the Riverwalk in San Antonio, Texas find the restaurant at Hotel Contessa and order the brussels sprouts.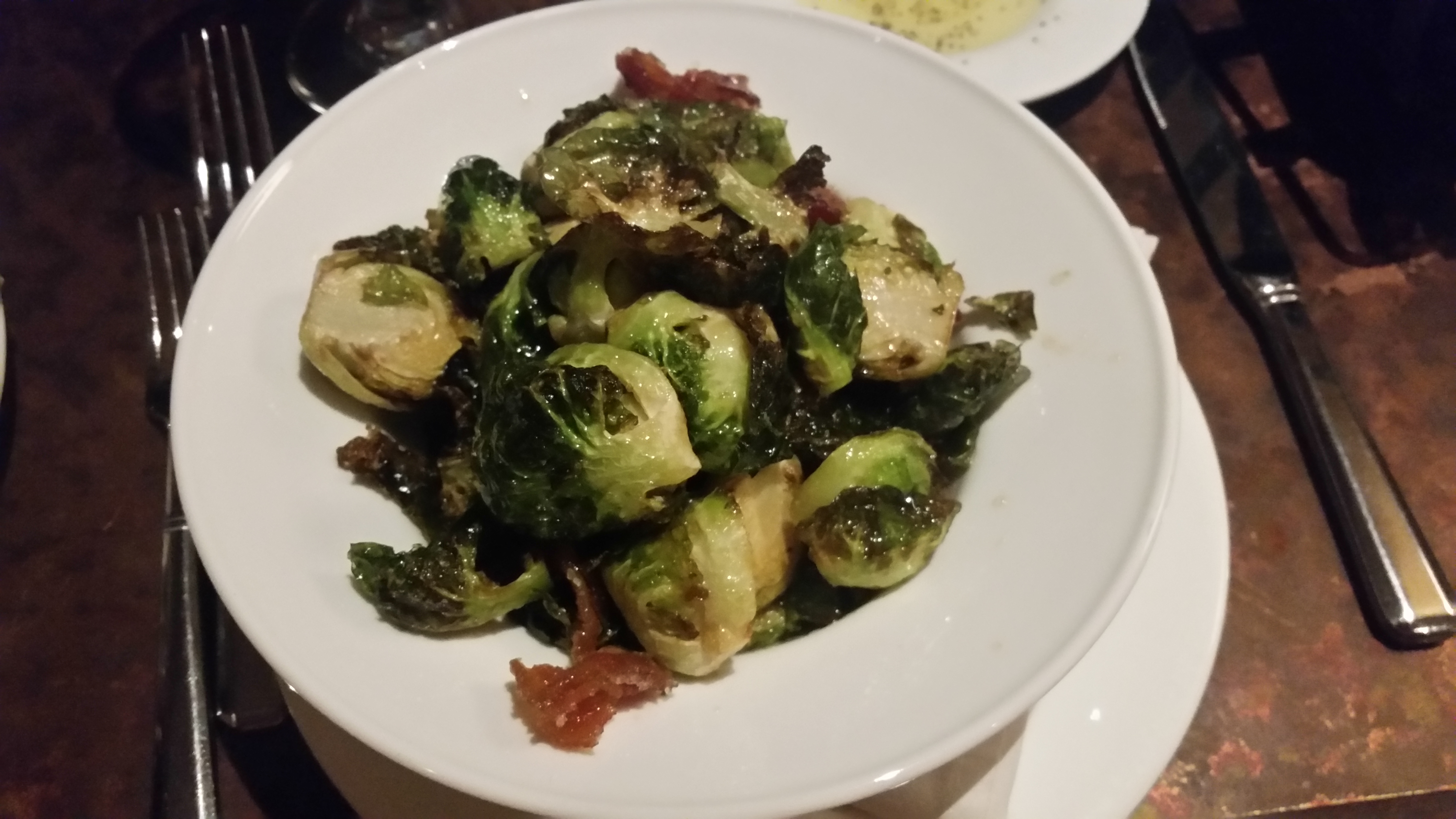 Why did this experience have such an impact on me?
Let's start at the beginning. Seeing brussels sprouts on a menu at such a fine establishment surprised me. It caused me to ask about them because I was intrigued. I mean, bacon makes everything better, but who puts maple syrup on green leafy veggies.  Then there was the whole-body reaction of my server when she thought about--or maybe tasted in her imagination--the brussels sprouts. That told me that I was about to make a seriously good choice. The second server, the one who delivered my food, couldn't resist the hunger that caused his stomach to protest leaving the brussels sprouts with me. Finally, when I tasted them, I was blown away. Maybe 'awe' is the right emotional description.  Every bite reconfirmed my decision and I may even have been a bit proud of my choice. Now here I am, writing prolifically about my brussels sprouts at Hotel Contessa.
Why does this matter to every other customer experience in the world?
Because it confirms some stunning and important discoveries we've made in our research over the last year.
The Admiration Equation™
We've learned that when customers tell stories about their experiences in the form of survey responses or online reviews (similar to my story above), and rate these experiences on a scale of 1 (terrible) to 5 (excellent) there are specific patterns that emerge at each rating level. We've confirmed these findings across industries as varied as insurance and financial services to technology to hospitality and restaurants to personal development to medical and dental offices. Reviews of products as different as dishwashers and tires also show similar patterns. And, these patterns can be identified, compiled and then applied to help staff interpret and act effectively in response to emails, in-person customer comments and even to prospects evaluating their purchase options.
We adopted the term Admiration Equation™ to encapsulate the factors that consistently drive customers to give five-star reviews. During this time, we have been working with clients to integrate a process of testing their customers' experiences to see if they sufficiently meet the factors of the Admiration Equation™. When applied, these factors lead to significant return on the investments in customer experience.
LEARN MORE ABOUT THE ADMIRATION EQUATION
™
IN THIS VIDEO
The Results
One client was pleased with the results their educational marketing campaigns were producing, but willingly agreed to test some recommendations we made. They altered the language used in some presentations and repositioned the expertise of the presenter. As a result of the improvements, the company sold 90% more than any previous campaign. This was an upsell offer to existing clients who had already invested deeply with the company's products within the last six months, yet, with the right experience, they were grateful to have the opportunity to invest even more.
With another client we analyzed their online reviews and comments from internal surveys. Then we examined their online marketing, email marketing and even television ads to identify the key experiences that were missing in each of these tools, by customer segment. The company is currently updating their marketing assets with the expectation of improvements. 

Accidental Discoveries
While doing this analysis we have gone beyond just reviewing customer experience surveys and reviews. Some clients provided access to their data from buyers and non-buyers. Using these opportunities, we explored how the Admiration Equation™ could be applied in the sales process. Here we found that, like five-star reviews, customers who bought had effectively engaged each of the factors we measured for. The most fascinating discovery was that some of our clients provided data collected from their buyers weeks or even months before the purchase was made.  We are now engaged in research to determine how companies can confidently predict sales based on unstructured comments collected before marketing campaigns start and sales offers are made. It appears that the subconscious or non-conscious minds of customers are working on their purchase decisions long before companies even start to solicit.


The Future of Customer Experience Analysis
As we continue to pull back the curtains on what drives the excellent customer experience, we will likely continue to find new ways to apply our findings. We regularly help improve operations and augment staff training. We've been supporting the innovation of dozens of new products and services for years. These range from smart phone apps to the design of some of the world's largest hotels. Now that we are venturing into the design of marketing campaigns and sales processes as well as offer innovations, I suspect that we will see an unpredicted expansion in the role of customer experience analytics, particularly in the area of integrating structured and unstructured data with both technology and highly-trained analysts.  

Maybe with these advancements in customer experience analytics, we will see culinary innovations with brussels sprouts in more restaurants during our travels.

***
Learn more about our newest customer experience training program at www.CXSimplified.com