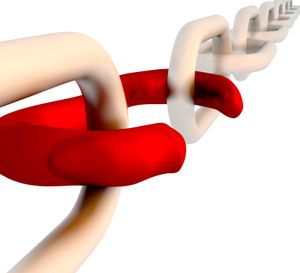 "What are we doing wrong?" is one of the most common questions that I hear from my clients who want to know how to improve their customers' experiences.  They are typically hoping that our company will find a silver bullet in the form of a broken servicing process or a unmet desire for a specific product feature hidden in the language of the customers' emails and surveys.  But, the real problem is most often not in found in these areas.
The real problem is evident in the question the executive team is asking.
The leaders I work with are intelligent people. They hire smart people. They design good processes and great products. They care deeply enough about their customers as is evident when they invest in our services to learn how they can improve their customers' experiences.
The real problem is not in the company.  The problem is in how the executives think about their company. It is hidden in their beliefs. It is buried deep in their assumptions.
Many of these leaders believe that there is some fundamental flaw in their product or service that, if they fix it, they will see sales increase, satisfaction will rise and loyalty and advocacy will grow.
What they don't see, because they are too close to the situation, is that the problem is in their beliefs.  They are so focused on their belief that the company did something wrong to cause a poor customer experience that they never ask an obvious question.
"Are we attracting the ideal customers who will love the experiences that our products and services evoke?"
When executives shift their focus from their belief that their products and services are flawed toward the question of what type of customers they are attracting, it opens their minds to the possibility that maybe they are thinking about growth in an unsustainable way.
Is growth really about attracting more new customers who may not be like the existing ideal customers to the same products and services that have sold well in the past?  
Or, is it about selling complementary products and services to the existing customer base?  
Or, is it about educating prospects who are not yet acting like the existing customer base up to a level where they are thinking and behaving like the ideal customers who are already being served impeccably?
Or, is it about creating a different version of the products and services that are currently offered so that they are relevant to the new customer base that the company wants to attract?
Most companies are not fundamentally flawed. The leadership of the company just needs to ask themselves and their team different questions that challenge their current beliefs and assumptions.