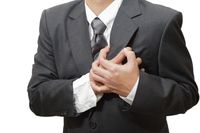 I know. You're thinking I've gone crazy. You might be right, but indulge me for a moment.
Have you ever had that nagging feeling that maybe some customer experiences are not meant to be delightful or easy?
Think for example about the last time you met with your personal trainer, your mentor, or even your doctor. Did you have to do things that made you feel uncomfortable or even caused physical or emotional pain?
Recently I had such and experience. I made a decision that my mentor called me out on. She knew I was shrinking from the challenge I was facing and that the path I chose would not lead to the achievement of the goals I set.
Thank god she was not worried about me feeling good in that moment. She knew I really wanted to achieve something more and she would not stand for me believing that the obstacle I saw in front of me was bigger than me.  After a few minutes of a "sweaty palms" conversation and a significant amount of stomach churning, I reversed my decision and set out on a new course.
(By the way, she taught me practically everything I know about executive coaching. I've learned how to have these conversations with my clients.)
In that moment, as a client, I needed to be shaken and stirred. And, my mentor knew it. It was far more important to her that she do what I hired her to do: help me see what I could not see, no matter how that made me feel. The outcome I truly desired was more important to her than my feelings in the moment. My mentor had to risk my anger directed at her and the possibility that I would fire her. She was doing something far more important than making me feel good. She was helping me achieve a long-term goal by facing short-term pain.
There are other situations where experiences may not be delightful. You might consider Dr. Martin Seligman's PERMA model from positive psychology as a source of ideas.  PERMA stands for:
Positive Emotions
Engagement
Relationships (positive)
Meaning
Achievement
These each represent types of experiences we seek for their own sakes. No doubt you can see how each of these may involve uncomfortable or even unpleasant feelings as you are on the journey to experiencing the end state.  
Engagement or flow involves the need to risk and to put yourself in a position where your skills are not quite matched to the challenge.
Positive relationships often come out of shared trials and tribulations or involve going through tough times together.
Doing what is meaningful to you might lead to criticism from others who have a different perspective.
Achievement requires mastery and mastery demands discipline, practice and frequent failures on the path to growth.
Why does this matter?  
Because when you are considering the ideal customer experience and you are designing the environment that will most likely evoke that experience in your customers, consider the temporary unpleasant feelings that your customers need to pass through in order to feel the fullness of the positive experience at the end of their journey.  
How will you support them through these unpleasant feelings?  
My mentor has established a level of trust with me over years of working together. Now I know when she evokes these feelings in me it is because she cares deeply about my success and this is the most effective method of expanding my awareness. She established a pattern of support in the past that I could reflect on in the moment when she evoked discomfort in me. I could see that she was actually helping me and not inflicting unnecessary pain. 
How are you building the support structures your customers will need to lean on when the journey doesn't feel good?
You can learn more about our customer experience executive coaching services.