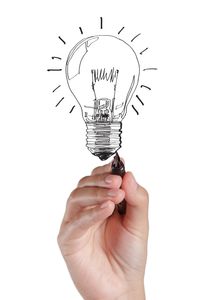 The feedback and questions from my
previous post
have been really powerful. They were so good, in fact, that I that instead of just posting responses to each individual site, I decided would address a few of the key themes in future posts. 
You see, it struck a chord. Many people have never REALLY asked, "What would I love to hear my customers saying about my brand, products or services?"
One reader, the Chief Customer Officer of his company, emailed me his answer to that question. It was a very compelling answer. I applaud him for taking the time to think into this question.
Another reader emailed me to say, "At first I thought it was a silly question..."
That response struck home. Is it really silly for us to ask what WE would love to hear our customers saying about our company? We are investing our life in building this company even if we are just employees.
I've run into a variety of explanations as to why the initial reaction to my question above is to think it is silly or even a waste of time to really consider. Here is my take:
False Humility
So many of us were raised in families or schools where we were taught not to brag. In fact, we were led to believe that even talking about the good things we know about ourselves was considered bragging and a bad thing to do. Maybe we were not allowed to excel because someone else might feel bad. We were told to "be humble" and just thank God that we had the skills we did.
The problem with this behavior and belief is that if we do not embrace our talents and skills and press on to use them beyond what we've achieved before. As a result we fail to really live. If we hold back out of a false sense of humility, we hold back all of humanity. If we do not rise higher than anyone has ever risen before, we fail to let others see what is possible for themselves.  True humility embraces the wholeness of who we are and allows us to bring light to the dark places within while at the same time shining as brightly as possible where possible. 
The human species thought the 4-minute mile was impossible, and some doctors even said the human heart would explode if pressed that hard. But, when Roger Bannister ran the first 4-minute mile in May of 1954, he inspired other runners to do the same. Now, it is standard for top athletes to achieve what was once considered impossible.
We have to seek to achieve what we desire if there is good in it for ourselves and others. To do any less is a waste of the precious moments of life we have.
Suppression of Imagination
Those who are not plagued by false humility, are likely held back from answering the question, "What would I love to hear my customers saying about my brand, products or services?" due to a suppression of their imaginative skill.  Let me be clear, I did not use the word "lack." I don't believe there is a lack of imagination, unless someone has had severe brain damage. 
If you don't think you're creative and that you don't have an imagination, think back to the last time you were waiting on hold for a customer service agent rehearsing what you were going to say and how they were going to respond and then how you were going to reply.  Voila! You were using your imagination.
As best as I can tell, somewhere between second and fifth grades, most children suppress their wonderful imaginations because they are repeatedly told to pay attention. The problem is not that they were not paying attention, they were simply paying attention to what was going on in their imagination instead of what the teacher or parent was saying. So, instead of working with the children, parents and teachers tend to react  angrily or with frustration. Children learn that using their imagination to create wonderful things is dangerous and punishable. So, they suppress the use of imagination for these purposes.
Business schools typically exacerbate the problem when they focus most of the assignments and lessons on the use of reason. "Figure out" how to make things happen. But, do not imagine what might be possible.
Reclaiming Imagination for the Customers' Sakes
It is time we reclaim our imagination for the sake of our customers and for our own sakes. There is no inspiration in announcing that "We will raise satisfaction scores by 10% this year."  That will usually deflate most employees instantly.
Instead, invest the time in seriously considering the question, "What would I love to hear my customers saying about my company, products and services?"  Then, share this inspirational message with your team. Decide that you will accomplish this. Engage them and encourage them to imagine how they could help you achieve it. 
In short, create a vision that lights up your team and calls upon them to become like children again. Let them safely explore what seems impossible to that they can evoke experiences in your customers that your competitors still believe are impossible. Then, like Roger Bannister, you too can prove to the world that nothing is impossible.