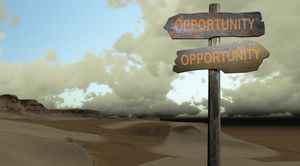 I remember sitting in the heavy cherry wood boardroom table, just half-listening to my vice president give the weekly updates. My mind wandered as I stared out of the floor to ceiling windows into that cold January morning. I could see a falcon perched in the bare branches of a tree near the river's edge as it focused intensely in its hunt for lunch. 
  
"Tony is now going to be managing the guest and meeting planner experience programs…" 
  
"Wait! What?" my mind shouted. 
  
Have you ever had that moment when you get so scared that you can feel the heat rise in your head and hear your heart pounding in your ears and your heart starts racing because your adrenal glands just dumped a fresh batch of adrenalin into your bloodstream? Your heart takes off like a like the engine of a drag racer when the NOS hits the piston chambers and explodes. Suddenly your body is prepared to fight for your life or run like hell. 
  
That's what I felt.  I was paying complete attention. Absolute attention. I swear that I could hear the thoughts my VP was thinking right then. 
  
I heard people around the table congratulating me and I acknowledged them the best I could. But I was scared. I was a "hard numbers" guy. This customer satisfaction stuff was completely different. 
 
The journey I took 

My career path up to this point involved working for large publicly-traded companies. I would start with the company with the responsibility of building their sales, marketing and operational analytic programs and teams. Then I would transition the analytical team to another leader and act as an advisor to the team as I dived into a role that leveraged and applied the data, systems and teams I created. The pattern was simple: Learn. Build. Apply. Repeat. 
  
This was new. This was not about numbers. It was about that soft, fluffy, intangible world of feelings. This was not anywhere remotely close to my comfort zone. 
  
After the meeting, back in my office, I replayed the same thoughts over and over. 
  
"I've never written a survey, much less analyzed the results. I am a process person. A 'Lean Thinker' a Theory of Constraints practitioner. This customer satisfaction analysis requires an understanding of psychology. It takes years of research practice to master it. How can I possibly do this? I have a bachelor degree in history and a minor in economic thought. Yeah, I have an MBA, but I AVOIDED all of the optional psychology courses and opted for the quality improvement courses because I knew my career was focused on being the 'hard numbers guy.'" 
  
I stared at my computer.  I toyed with the option of telling my VP that this was not for me and that they should look elsewhere. After all, it was unsolicited and I still had all of the other work on my plate.  I didn't like that option so I kept thinking. 
  
Then a thought struck me. 
  
"You are a quick learner. Why don't you just read as much as you can on the topic for the next month, before results need to be reported." 
  
So, I logged into my computer and opened up Google.  
  
I could say the rest is history, but that would not do it justice. Within the year, I learned an incalculable amount about customer satisfaction surveys, methods and how I could impact what was happening. I knew for sure that I knew how to build analytical programs from the ground up so I focused on that. 
  
We brought in a text mining vendor to conduct a pilot program using their software. In our first test run, we generated insights that resulted in the redirection a $300 million investment to more profitable opportunities.  We built a team of experts across the company who not only generated insights but put them in action so that the company had a solid foundation to set new records for customer satisfaction in the brand and the industry. 
  
A year after receiving the assignment, I was standing before an audience as the presenter at an international business intelligence conference sharing what my team and I had done. It was one of the earliest presentations about text mining in the customer experience arena and probably the first for our industry. 
  
I shared that, not to impress you, but to impress upon you what happened when I learned some key lessons in that first year of study when I decided to master my understanding of customer experiences. In short, I had to take a different approach to my education in the industry. As a result, I have different viewpoints and a track record of success that supports my alternative approach to customer experience research. 

  
Your mission is to evoke experiences, not sell to products or services 
  
Product, services, features, benefits, etc. are simply the tools your company uses to change the mindset of customers from where it is to where it needs to be so they can experience that which you intend. 
  
Consider this: A good friend of mine just found out her mother was seriously ill. My friend had no desire for plane trip or a taxi ride to and from the airport or the peanuts on the plane. She was in the mindset of "I need to get to Mom fast, in the realm of what I can afford." The products and services she chose were a direct outcome of the mindset she had.  She didn't charter a jet or take a horse and buggy. She chose a commercial flight because that matched her mindset. With a different mindset, she would have chosen a different option. 
  
I was on a call with the CEO of technology vendor for the Federal Government today when this point came up. His company continues to grow and he is concerned that new hires are not understanding the experience he, as the CEO, wants clients to have. I asked him to describe what he expected the customers to show in their facial expressions, what they would say to associates or what they might write in a review or survey. This content formed an outline of his vision of the ideal customers' experiences. 
  
This is counter to the typical approach of asking your customers what they want to experience. While it is important to listen to your customer, remember that they are providing FEEDBACK, and feedback is an expression of their opinion of how well you delivered on the brand promises they believe you communicated. It is far more important for the company leadership to decide—not wish or want—but to really make a committed decision for the experience they want the customers to have as a result of engaging with the company.  When leaders do this, their team can then create a system that consistently delivers that experience and the marketers and sales team can promise that the company will do so. 
  
Every new feature, benefit, product, service, marketing message or call center script must flow out of the convergence of three things: 1) the leader's vision of the ideal customers' experiences; 2) the awareness of the ideal customers' current mindset; and, 3) the strategic steps it will take to move the ideal customer from their current mindset to the new mindset that allows them to have the experience the leader has decided for. 
  
As with any trip you take, you decide where you want to end up before you figure out how you will get there. Therefore, your customer journey map must start at the destination: the ideal customers' experiences. Then it needs the starting point: the mindset of the customer today who is not experiencing what you want them to experience. Finally, the journey map has as many moments as are required to transform the mindset of the customer from the current to the ideal. This is accomplished through the products, services, features and benefits you provide. 
  
Anything that does not serve the purpose of moving the customer from the current to the ideal mindset so that the ideal experience is a predictable outcome is wasteful and potentially a distraction. It should be eliminated. 
  

Challenge conventional wisdom and question "common sense" 
  
Clients often contact me and ask for support when they have grown frustrated with the lack of success in their own efforts. They love their customers and often feel a sense of guilt or remorse that some customers are having bad experiences. They are open to change when I arrive to guide them, but there is a difference between those who succeed and those who fail. 
  
The clients who fail have some common characteristics: 1) They want to copy someone else instead of deciding for their own unique customer experience; 2) they ask for advice but then chose to ignore it and do things their own way; 3) they believe more in following "common sense" and the equivalent of urban myths rather than leveraging the right data to generate insights; 4) they stop with insights and never act—these clients are the worst because they are convinced they're doing great work and they pat themselves on the backs but they make no real progress for the customers; and, 5) they stop too soon and never complete one effort before going on to the next. 
  
I've fired clients who where unwilling to change their ways because it is a waste of my time and their money—which is paid for by already unhappy customers. I am keenly aware that I and my teammates only have a limited time on this earth and all of us want to make the biggest dent in the universe that we can. So, I decided I only work with clients that are a good fit for us and I expect my clients to feel the same way. 
  
I share this because in every case so far, when I arrive, I find that my clients should either fire up to 35% of their customers because these customers are a financial and emotional drain on the company and there is no real probability that these results will change. It's not a fun conversation to have with the C-level, but it will immediately boost the remaining customers' experiences.  
  
Here's why you need to fire these customers: Your least profitable customers are likely your most dissatisfied or disgruntled customers so they complain a lot and demand too much. This complaining wears out your employees and requires attention that could be focused on profitable customers and new innovations. You cannot satisfy these customers because you either don't understand their mindset, how to move it or where you want to move it to.  That means, you don't have the products, services, features and benefits required to support their transition. They will never be happy under these conditions.  So, either fire them or get busy analyzing your data and understanding them.  This is the point at which I know if a customer will be a good long-term fit. What do they decide to do when faced with this choice? 
  
It is not common sense to fire your customers. How do I know? Think about the reaction you had when you first read that statement above. Did you see the truth in it or did you reject it or at least question it?  If you did not immediately embrace it, the concept is not "common sense" for you and most other people in your circle. Have you ever fired a customer? 
  
Your customer journey map absolutely requires that you challenge conventional wisdom and question "common sense." If you don't add this step to your process, you won't make the progress necessary to make real change. If you find yourself thinking or hear another saying, "We've always done it this way," be very wary. You're about to take the wrong turn. 
  
One of my clients recently told me how they challenged conventional thinking. They had my company analyze their pre-sales client applications—this is a franchise-like operation. In the comments we discovered some key indicators of a buy or no-buy mindset.  As a result, they took action and challenged the way they had always marketed the product. With changes to the messaging and the process, they nearly doubled sales in their next campaign, which was only two weeks after they received our analysis. 
  
When you are examining your customer journey map, be sure to ask what data supports the continuation of doing business in this specific way and where conventional wisdom, industry standards or best practices are prevalent. Documenting these data on the customer journey map will give you a quick, full perspective of the possible opportunities to create a more impactful and efficient customer journey. 
  

Build a support team from outside your organization 
  
Is this a shameless plug to hire consultants? Absolutely not. But if you don't hire outside experts your probability of success drops like a rock. 
  
When I was running the guest and meeting planner satisfaction program I mentioned above, I actually brought in several different teams. I created a team of teams.  
  
I hired a market research company that specialized in supporting online surveys with data feeds so I could integrate data from our sales and operations systems into our survey responses. This company was actually managed by our text mining technology vendor who built a support team in their office to manage our cloud environment—one of the first of its kind, and now the standard—and to help run statistical analysis that was beyond our internal skillsets.  This helped us revolutionize the company's, and as a result, the industry's approach to customer experience analysis.  
  
I also brought in a market research company to conduct focus groups and do phone interviews, etc. to bolster our feedback and help us identify the mindset and values of our guests and meeting planners. Then, I hired a customer satisfaction consultant to use that data to generate insights in using a different methodology from the company that collected the data. 
  
Finally, because the customer experience program was so new for me and required massive amounts of focus and clarity to make quick and accurate decisions that impacted millions of customers and had the potential to generate hundreds of millions of dollars, I hired an executive coach out of my own pocket so I could grow into the person I needed to be to create an industry-leading customer experience analysis program.  
  
Incidentally, after all these years I am still a client of the executive coach because I keep pushing the envelope to stay on the leading edge. In fact, because I saw how important this type of coaching is for the leaders who are really creating the customer experience analysis field and the C-Level executives who are changing their companies from product-centric to customer-centric, that I decided to earn my own coach certification. Now I am equipped to guide my own clients through their personal, professional and corporate transformations that are an inevitable part of the journey my clients are on. 
  
One of my clients told me a few weeks ago: "This is why I hired you. You hear things that I didn't even know I was saying." We are in the process of journey mapping his ideal clients' experiences and developing the coaching and training content for his team so they can effectively move the customers' mindset from where it is to where they want it to be so that they can evoke a unique experience for their customers. 
  

Customer journey mapping is more than… 

When you approach your customer journey mapping and your customer feedback analysis with a mindset informed by the ideas I shared above, you will see that customer journey maps are not stagnant, one-and-done documents.  They are maps of customer psychology and influence. They are markers of the territory of your customers' deepest desires and highest aspirations. Customer journey mapping is also a process of self-discovery for you and your team—if you do it right.