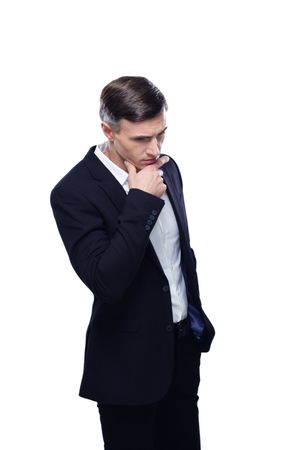 It is frustrating. When it happens, it makes me feel so vulnerable and even inadequate. If it goes on long enough the world itself starts to look a bit gray and unwelcoming.  
Much of my life I have felt like I am in a battle between boredom—usually brought on by having to do the same thing again and again without any enthusiasm for the task—and overwhelm, which I would typically describe as feeling stuck or maybe as having a boulder in the pit of my stomach. The battle comes when I decide I am done being bored and I set to achieve a goal that is bigger and bolder than anything I've done in a particular area of my life. In that brief moment as I cross the border out of boredom I enter a land that is bright, brilliant, even thrilling!  
I would love to stay in this land of delight forever, but I know from experience that sitting here is just a distraction, so I move on along my journey to the next border that marks the edge of my expertise in this type of endeavor. This is where growth happens. 
As I approach this border, I feel everything within me tighten up. It's a reaction. But it happens nearly every time. There was a brief moment in my life where I had converted that reaction so that I interpreted this tightness as enthusiasm, but lately I've usually started spiraling down the unpleasant corkscrew of emotions. That is, until I become aware and consciously will myself to think a new thought and to face the truth instead of imagined conditions. 
Have you ever been here? 
If you own a business you probably have. If you've been in love, you probably have. If you've gone after a new job or just about any "big" goal in life, you probably have. 
Why does it matter? 
 Because, this state is the boundary between creative growth and oppressive contraction and it is where every leader finds himself at some point in time. To successfully navigate this path takes requires willpower, vulnerability and clear-thinking. Unfortunately, these faculties tend to narrow and even shut down as you approach the border of your expertise and step across the threshold into the unknown. 
 I've been on this journey of discovering how to continuously and consistently choose to advance toward the edge of my expertise and cross into the land of the unknown because I know, while it can be frightening and while I may feel out of control, this is the only place that I can truly discover who I am and what I am capable of. This is the only place I can learn more about me. 
 My whole life I have been amazed by the 'geniuses' who imagined what was not and made it so. People like Edison who invented a system of illumination, not just an improved lightbulb, but the whole system of generating, distributing and converting electricity into light for homes. Or, someone like Carnegie who saw the future of steel as the building material for the world and was willing to put everything he'd created on the line to build a commercialized version of the Bessemer Process so that the price of steel would drop to pennies on the dollar. 
 In all my studies (I majored in history in college) I moved from an admiration of what they had done in the creating of the things, to an admiration of their understanding of the process of how to navigate the border between their current expertise and the expertise required to achieve the vision they had. It is this process that fascinates me and that I continue to study. 
 Why do I continue to study? 
 We live in a world filled with things that were dreamed up by someone who had to cross that border of their expertise into a land of the unknown. There are few if any moments in our days that we are not in contact with something that was not first manipulated, altered or improved by humanity. The houses we live in with their manicured landscapes that we admire as we drive away in the morning in a car with a satellite radio broadcasting news or music while we sip our Columbian coffee. Even most of our conversations with people first pass through one or more of the many media created by humanity to amplify our voice or extend our reach.  
This world will only continue to become more a creation of humanity as we move forward. To support that, we need to dream bigger. We need to dare more boldly. We need to create more effortlessly. And, we need to master our ability to navigate the border between what we have become an expert in and what we do not yet know. 
While I do this work daily for my clients, my teams in my companies and my family, I also must do it for myself. That means that I must observe and document my successes and my failures so that I can learn deliberately more quickly, use my willpower more effectively and efficiently, be more vulnerable and think more accurately. 
As a result of doing this work and finding a tribe of people who are on parallel journeys, I had the opportunity to take on a new vision—in just 19 days write and publish a #1 best-selling book with my good friends and business partners Vinny and Connie Ribas. As of yesterday, we achieved it—and we did it on schedule. 
We released the book, "LEVERAGE: Achieve a Lot with the Little You've Got" as our first of many books to come. In this book we lay out a simple, easy-to-use process of identifying all that you have. We created "My Total Asset Inventory™" templates that help the reader think through every asset they own, have access to or may be able to use. Then we share a ten-step process, broken down into bite-sized actions that anyone can take without being overwhelmed. 
When we shared the manuscript last week with some early reviewers, I felt very vulnerable and quite uneasy. I was unsure if we had achieved something worthwhile or if it was just a repeat of what's out there already in the genres of self-improvement or business growth consulting. 
To my relief—and yet, as a part of me expected, we achieved our goal. In less than sixty pages (about a ninety-minute read) we lay out how to document the tangible, intangible, intellectual property, relationship and idea assets you have and then how to start using them to achieve whatever your goal is. 
Here is how my friend Dr. Joan Rosenberg, psychologist, best-selling author of "Ease Your Anxiety" and host of "The MindStream Podcast" reviewed the book: 
"The ability to achieve big goals and dreams requires a parallel ability to think about the incremental and sometimes small steps and activities it takes to pursue those goals and dreams. That's what this book, LEVERAGE, is all about . . . providing you with the practical steps and activities to help you map out the assets, resources and sequence you will need to reach your desired success. Your result is a clear plan for what to do and how to do it." 
 After reading that review I definitely put my anxiety to ease. Since Joan's email, we have received dozens of similar messages from readers who are already seeing a difference in the way they think about what they can achieve because they are realizing two things: 1) they have far more resources that they were unaware of; and, 2) they can follow the simple steps that will move them, one moment at a time, from where they are to where they want to be. 
This journey, like so many others in my life, started out with a simultaneous frustration of boredom and a burning desire to help more people achieve their goals more quickly and easily—and without the unnecessary emotional pain. 
If you'd like to read our book or review some of the resources we have available, you can peruse our website at www.LeverageToAchieve.com.