As a recovering marketing manager, I still have a deep-rooted tendency to think of the different elements in copy that can be tested to improve conversion. Back in the good-old-days of direct mail (If you don't remember, it's the type of mail you'd get in the box at the end of your driveway or in the slot in your door.) we were always looking for ways to convert ever larger segments of the customers we were mailing.
It was a lot tougher then than it is today. Now you have immediate access to social profiles, social likes and shares, clickstream data, etc., and can change out copy or pictures on the fly. Instead, we used statistical models based on demographics and maybe a limited set of past behaviors to determine who to mail.  We had one chance to get it right. We never really knew who opened the mail, read it or simply tossed it in the trash. All we knew was who responded.
Even though today we have a tremendous amount of flexibility and the ability to track many more actions of prospects, marketers still make major mistakes. For some reason, the big data revolution does not seem to help some companies. I suspect sometimes its because some people expect the machine to do the thinking. Later in this post I will provide some additional reasons. Let me share an example of the issue.
I'll bet you have received an offer in the last 60 days that uses the language "As Low As" in big bold letters. This seems like a pretty good idea for an emotional hook, and it works to attract attention.  You might have even paused long enough to impress an image of the now faint memory of the offer. While it makes a good hook, there are some significant challenges with the "As Low As" offers that most marketers overlook.
How Generic Offers Backfire
I don't remember exactly when, but I do remember that Marriott Hotels made a change to their website that shocked me. As I remember it, in the past when you searched for a room on particular dates, it would present you the actual average rate for your dates of stay.  Some time ago, I was doing a search and I was pleasantly surprised to see a rate lower than I anticipated for a hotel I stay at several times each year. I proceeded to checkout page when, just before finalizing my booking, something caught my eye. The estimated charges were several hundred dollars more than I expected. 
I scanned the page to figure out what I had done wrong. Nothing. The the room type and dates were exactly those which I requested. Then I saw it. The price they were teasing me with was the lowest priced night of the multi-night stay. Every other night was higher. Some were nearly twice as high. 
"What! Why would they do this!"
I was angry, frustrated, exasperated. I felt like they just lied to me. And, I trusted them. I felt like they were taking advantage of me. It hurt. And, they wasted my time.
I started the process over and looked for another hotel that was REALLY in my desired price range. It was then that I noticed that they had added a tiny little word to the
sales page.  That word was, "From."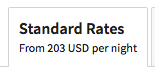 While researching for this post, I went back to their site. I found it to be even more confusing. This time, the "From" rate was not even really accurate. It seems to represent the highest priced night of the stay for this particular room type.  I could understand the attempt to convince me of the lowest rate in order to lure me in, but why put the highest rate.  I am likely to book another hotel if I don't proceed to the checkout page and examine the total cost.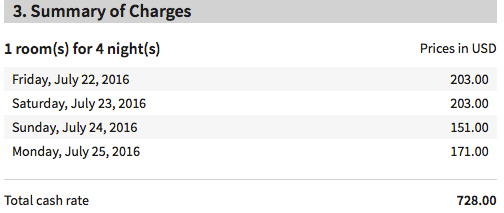 Regardless of the reasons why, I now intentionally take a bit more time analyzing what I am really being quoted on Marriott's website.  And, that is not an ideal customer experience. I also examine my bill a bit closer than I used to. I like when things can be habitual and I don't need to think about them. Now I feel like I have to. (You may like this post about
Why CEOs think Customer Experience Projects are Risky.
)
Marriott damaged our relationship by trying to get more sales with the "As Low As" concept.  Was it worth it?  I can tell you that I have actually started shopping around and actually booking in other hotels whereas before I was a loyal Marriott customer. They made me pay attention. Before I would have trusted them and acted habitually.
How Specific Offers Backfire
Banks, auto dealers and other companies that have an extensive amount of data tend to use the "As Low As" hook to sell payment plans, loans and credit cards.  Often customers see the offer and respond excitedly. They click the offer, send emails, apply online or call your contact center at above average rates.  This is a success, right?
Not so fast.
Some of our clients have found out there is a backlash to using promises like "As Low As." And, when we show them why, they are usually surprised.
This is where the misuse or the lack of proper use of big data is often to blame. Customers are segmented and mined based on specific criteria like the age of their car, their payment history and a host of other factors. Then, the marketing team makes up an offer. The challenge happens when marketing writes copy that attracts people who have no chance of getting the "As Low As" rate or price.  In fact, I've seen "As Low As" offers made to a group of customers where less than 1% could possibly even qualify.  
What happened? The customers retaliated. 
The social media accounts, call centers and email centers were filled with complaints, angry messages, threats to leave and letters to regulatory bodies. This was a mess. And, it happens more than you'd think.
This is where the disconnect between big data analysis and marketing messaging create a brand nightmare and a customer experience debacle. Customers immediately lose trust. They start to take a second look at everything. They move from being habitual customers to edgy, highly-attuned customers looking for issues and evidence to validate their suspicion that the company is trying to slip one past the customer.
What Happens When You Can't Fulfill the "As Low As" Promise
From analyzing thousands of comments in situations where customers feel "baited and switched" we found that there were a series of emotions expressed. Here is a typical sampling:
Expectation - We expect you to tell the truth so therefore we expect that we really have pre-qualified for this offer as your marketing copy says.
Ownership - We've taken mental and, more importantly, emotional ownership of the things we are going to buy with your offer (e.g. the new car, furniture, etc.)
Disillusion - We can't believe our rates or prices are so high compared to what you promised.
Disappointment - We guess we cannot get what we set our heart on. 
Anger - We blame you for this. You promised us something we could never have and you tricked us. We hate you.
Revenge - We are going to tell every one we can and get back at you for this.
Apathy - We see that you're like every other company out there. We guess we should have known better. If offered something more appealing, we'll switch without saying a word to you.
With just one marketing mistake you can move your customers from trusted fans to apathetic users. If they stay, they will likely be an anchor on your sales, profitability and experience ratings.  If they leave, they will likely be gone a long time.
What's the Solution?
Our experience is that these mistakes happen when there is too big of a gap between the marketing, data analytics and customer experience teams. This can be a real gap created by leadership, turf battles or simply ignorance. On the other hand it can also be a gap in mindset caused by different goals, visions, or the interpretation of data.
To ensure this doesn't happen in your company you should consider bringing together the teams that will be contributing to or affected by the decisions. Make sure you have representatives of all parties from sales to strategy from fulfillment to customer service.  Let them all speak. They likely have anecdotes and data to help you avoid mistakes that would trigger a backlash and potentially a negative ROI on your campaign. This one meeting may be enough to save your campaign and prevent a costly error.
********
(You may also like this post:
The Most Missed Step in Customer Experience.
)
Tony Bodoh has published two #1 Best-Sellers this year.  
"The Complete Experience: Unlocking the Secrets of Online Reviews that Drive Customer Satisfaction"
"LEVERAGE: Achieve a Lot with the Little You've Got"