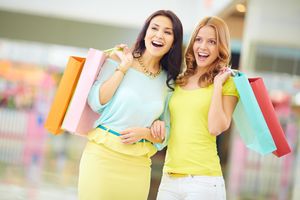 If you plan on shopping during the Black Friday sales in the U.S. you will be out there with
76 million other customers
. Every year the sales start a bit earlier and the lines get a bit longer. We also see videos of aggressive shoppers trampling each other, fighting for the last electronic gadget or gotta-have toy. These videos go viral and the world watches in horror as the those who were offering Thanksgiving for all they've been blessed with just hours before devolve into a mob fighting to save a few bucks.
Well, we're going to help you this year. We've spent the last two years doing deep analysis on all kinds of customer experiences. Our research revealed distinct patterns of behaviors that common for those customers who report having top-rated experiences.
#1 Make a Positive Personal Connection with the Employees
The greatest difference for customers who report a positive experience versus those who report a negative experience is a positive personal connection with one or more employees. Acknowledging an employee's effort, attitude or even their smile can open the door to a momentary connection. Using their name and thanking them for serving you can trigger a reciprocal action of the employee giving you even better service. After all, most of the other customers are likely to just treat them as a cog in the machine. If you give them the respect they deserve and you extend them some gratitude, they are likely to automatically return the favor.
#2 Maintain Control of Your Emotions 
This is the dirty little secret that few of customer experience experts will actually admit or even address. The source of your experience as a customer is you. I know, that may not seem politically correct to say, but it is true. While companies and employees are not perfect, your mindset and emotions dictate how you perceive a situation as a customer.

Numerous scientific studies prove that your emotional state actually colors your perception of your circumstances and then alters the meaning you derive from the situation. If you are frustrated or feeling vulnerable, you are more likely to interpret a neutral comment as negative or a slightly negative comment as very negative. On the other hand, if you are happy you will perceive everything better than they may actually be. That makes for a better shopping experience.

The key here is to make sure you care for yourself. Here are a few ways to do that:
Get plenty of sleep, even if you have to get up early.

Make sure you keep your blood sugar at a good level. Hunger puts you on the fast path to unpleasant emotions.

Finally, take a break if the emotions of people around you start to 'leak in.'
If you are an introvert or an empathic person, you are more likely to experience a drain or even a nausea in the presence of intense extroverted energy common in the crowds of Black Friday shoppers. Take a few minutes in your car to recharge or even at the local coffee shop.
If you have 15 minutes, you can learn a lot from my good friend Dr. Joan Rosenberg. She teaches you how to quickly and easily process the unpleasant emotions you may feel.  What a great time to practice!


#3 Be the Victor, not the Victim
Customers who report having excellent experiences use language that indicates that they maintained a belief that they were in control of their situation and they never give  the conditions around them the power over them. In other words, they are victors, not victims. The customers who have the best experiences actually take responsibility for the things they are paying attention to and the things they are doing and feeling. This is an extension of them maintaining control of their emotions (see #2 Maintain Control of Your Emotions). 
The customers who have the worst experiences are those who blame the store, the employees or something else for the situation. On Black Friday, if you find yourself wanting to blame someone else or something outside of you, you are headed down the spiral of unpleasant emotions because if you allow yourself to believe another person is in control, you are telling your mind and your body that you are helpless and a victim. This triggers a series of toxic chemicals that are felt as unpleasant emotions which then causes you to think thoughts of what might happen to you if you are truly not in control. The spiral continues as your emotions fire with anger, even hostility resulting in you attacking the person who you are blaming for your condition. Think about what you see in those viral videos of shoppers fighting with each other.
Instead of going down this spiral when you feel like you don't have control, pause for a moment and take three deep breaths. This slows the emotional reaction and allows your rational mind to catch up so you can see things as they really are. Then, ask for help or clarification with curiosity. This approach will stop the downward spiral and you will immediately stake your claim of dominance over the situation.
#4 Tap into the Positive of the Experience
Customers who have excellent experiences express appreciation for the experience of the moment. In fact, the best experiences are reported when customers identify three or more things that engage different senses (i.e. seeing, feeling, hearing, smelling, tasting, etc.) and that trigger different emotions (i.e. positive surprise, warmth or welcome, awe and amazement, etc.). This grounds the customer in the moment and helps them remember the whole experience in a more positive way than if these sensory engagements pass with little notice.

You can tap into the experiences of the moment when you savor your coffee for a few seconds while you look around at the holiday decor and listen to the holiday music. Or, while you are standing in line waiting for your turn at the register, you can appreciate how vibrant you feel being up early and succeeding at finding great deals. You can even put your attention on others and see the love in the eyes of a young couple who are shopping for their first Christmas together.  Whatever it is, take these moments and focus your attention on them and it will improve you experience both in that moment and for the day.
#5 Share Your Positive Experiences With Others
Giving is a part of this holiday season. Several scientific studies have shown that when we give, we benefit. But, more than that. The receiver and any observers benefit as well. This is the last tip to make your Black Friday an amazing experience.

Share your positive moments with others. Yes, you can share the deals you found, but that's not really what I am referring to. Our research shows that customers who tell others about the positive experiences of the moments that they tapped in to (See #4 Tap Into The Positive of The Experience) are far more likely to have a better shopping experience. When you share a Facebook post, Tweet or Snapchat about the young lovers who melted your heart or the employee who went out of their way to help you,  you help people pause a moment and feel a sense of connection through you. They literally experience a version of what you experienced in the moment. This could be the greatest gift you find and share on Black Friday.
BONUS TIP: Remind Yourself of this List
Here is something I have learned to do over the years and it has resulted in me having some amazing experiences. Create reminders for yourself to actually do the things on this list. 
Set an hourly alarm to do #4
Put a sticky note on your credit card to do #1
Schedule your break (See #2) before you even leave home
Before walking through the doors of any store take three deep breaths (See #3)
When you are standing in line or you get back to your car do #5
I hope each and everyone of you have a Happy Thanksgiving and have amazing Black Friday shopping experiences.
***
Tony Bodoh is the co-author of the #1 best selling book, "
The Complete Experience: Unlocking the Secrets of Online Reviews that Drive Customer Loyalty
" and he is the creator of the
30 Day CX Challenge
where employees quickly learn how to really listen for the hidden patterns in what customers say or write and then how to effortlessly act to evoke a 5-Star customer experience.