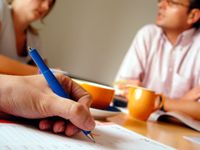 My wife meticulously folded the material, measured and cut. I watched silently and with some amazement knowing that if I was to embark on the adventure of making my daughter's Halloween costume, she (well, probably both my daughter and my wife) would lock herself in the bathroom sobbing for the next few years. I am not a Do-It-Yourselfer (DIY) when it comes to crafty things. I would rather spend the $100 or so and buy the costume.
It got me thinking though. 
How many companies do their customer experience analysis in a DIY mode?  Or, do they choose to follow the Done-For-You (DFY) mode?
Most of my clients start out with great intentions of DIY, whether they are bootstrapping startups or cash-rich Fortune 500 companies. When reality sets in, they call for help.
DIY analysis is hard. Especially in the customer experience space. It requires a variety of skills in one person or in a close-knit team.  Here are a few things I would recommend looking for if you plan to take the DIY approach:
Research Experience - Knowing proper methodology is an absolute necessity for analysts. It is way too easy to end up stuck in your own cognitive biases and reporting back findings that are more harmful than helpful.
Quantitative Research Experience - There are many "quants" out there doing research. It is easy to find them. They are necessary because you want to determine the size and opportunity that the customer experience problem represents. But, they have to be open enough to be willing to deal with levels of uncertainty that come with the territory when they cross the threshold into qualitative research.
Background in Psychology - Formal training or significant experience in experimental psychology, behavioral psychology or related fields is helpful when trying to undertake DIY customer experience analytics. Understanding human behavior and motivations requires an understanding of the complexity of human emotions, paradigms and hidden patterns in language that are overlooked by the average person.
Passion - This cannot be overstated. I have worked with perfectly qualified and intelligent analysts who had no passion for the work. Passion matters because, in most companies, reporting on and changing the customers' experiences often requires deep cultural shifts in the organization. Change leads to resistance and demands persistence and a reason to continue on day after day.
Whole Mindedness - This is probably the most rare of the characteristics I find in the field. If you find a person with the characteristics above AND they have whole mindedness, do whatever it takes to keep them. Usually, that means help them see their analysis turn into real change in the organization. Whole mindedness means that they can see the scope of the whole of the customer's life, the business, the processes, the need for customer satisfaction and ROI, etc. But, they also have the opportunity to zoom in and focus on the one detail that shifts the whole customer engagement system to be something greater.
Empathy and Shrewdness - Combining these is vital. The analyst must be able to relate to the customer but they must also realize that not every problem needs to be solved. In fact, they need to curb their empathy with shrewdness when they decide where to focus their leader's attention. Budgets are limited. Focus on the few challenges that will have real impact on the customers' experiences when they are funded and backed by political support.
If you plan to go down the
DFY path
, or you realize your team is missing one or more of the critical elements to do DIY themselves, you need to find these skills in the market.  Knowing who you are hiring is  as important as what you are hiring them for.  Too often a mismatch in expectations between clients and the hired help leads to a challenging relationship and missed opportunities.  Here is how I breakdown the market in Customer Experience analysis:
Contractor - These individuals can be a dime a dozen. They have the ability to fill a chair and get functional tasks done. Give them a process or let them follow their own process and you will witness a human information factory at its best. They churn and burn through data and can provide you the added hands you need. But, in many cases, you are not hiring them for their heads. They want to keep it simple and follow established procedures.
Consultant - Brains for hire. These individuals are paid to think. The question is, can they think outside their box. And, if they do, will you listen to them.  If you think you know the answer already, and don't plan on changing your mind, don't waste your money hiring a consultant.  Now, many "consultants" are really contractors in suits. They tend to be just out of business school and following the firm's established approach. In other words, they are not thinking, they are doing. Don't pay for thinking when its not happening. 
Curriculum - This and the next "C" on the list could cross over to DIY, but here we are referring to those who come in to develop a training program that is unique to your company and designed to create results for your company. Its not about "best practices" unless those are the best practices for your company. Curriculum is only as good as the commitment of those in the program to stay the course and master the new mindset. If you don't plan to give your team the time to learn or the latitude to fail their way to success, don't waste money on curriculum. Just hire a consultant or contractor.
Certification - Those who are serious about professional development and want a form of a guarantee of results need to consider certification. These are relatively new in the CX field and they vary from a simple test to a 2-day seminar to online multi-week training. While mastery takes time to develop, certification programs are a great way to keep your best talent with your team. They feel rewarded when you pay for training and a qualification that they take with them the for rest of their career.
Coaching - The highest level of DFY is coaching. Executive coaching specifically designed for you as a leader in the CX field. But coaching for your team related to analysis projects, vision building or other skills is also valuable.  They key difference between a coach and a consultant is that the coach does not give you the answers. He or she teaches you how to think about the problem and possible solutions in a way that evokes the answer from you. This is a life-changing experience.
Whether you ultimately decide to DIY or have your customer experience analysis DFY, you have plenty of options and more than enough research to do.
What have you tried? What worked? What didn't? Let's start a dialogue.