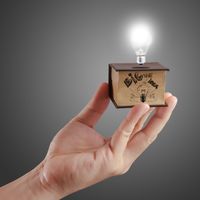 Even the best executives and companies get the innovation process backwards much of the time.  They see their company and its products as the center of the universe and they do all of their customer research from that perspective.  Think about the sales numbers, the satisfaction scores and the dozens of other key performance indicators (KPIs) that show up on the corporate dashboard.  Yes, they need to focus on these, but this is where executive influence over innovation research tends to go wrong.
We are long past the days of product-centricity and I won't buy into "customer-centricity" because that's not realistic or pragmatic.  
Think about the latter for a moment.  Your customers would tell you that they would be happier if your products were free. But, you'd be out of a job, if not out of business in a heartbeat if you put their desire for "free products" at the center of your business operations.  And before you point out the Freemium model, let me clarify that I am not talking about that.  Even in that model, someone pays your bills.  My example of "free products" may seem extreme, but there are plenty of things your customers would like from your company that are just not feasible.
So, realistically, how should one approach customer experience research for the purpose of innovating?
The simple answer is: from the perspective of the phenomenon of the experience.  
The experience is not the customer.  Nor is it the company.  The experience is evoked in the body-mind of the customer when she is aware of an interaction--in the moment or as a memory--with your product, service, brand, etc.  
The experience is the center of the research.  Not the customer. Not the product.
Here is one example of how to start your customer experience-based innovation research.
Instead of asking customers why they stopped using your product or canceled their subscriptions to your services, take a sample set of customers who behaved this way.  Then find all of the emails, comments, call center notes and other communications that they provided to you in the previous 90 to 120 days.  Examine what they asked for, the challenges they had, and what habits were underlying these behaviors.  
Patterns will emerge from the data and you will likely discover the real reason they left.  If you look deep enough, you may even discover the triggers that you can listen for in feedback from existing customers that indicates that they too are on the path to becoming a "former customer.  When you have these insights, you can create innovation initiatives to lower your attrition rate and improve your loyalty.  
You will have the desired impact on your dashboard's KPIs when you stop focusing your research on the KPIs.  Quantitative measures can only tell you how many times something happened.  They cannot help you understand why something happened.