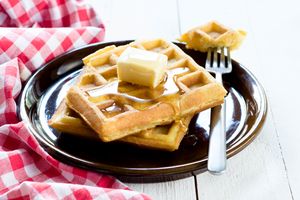 This morning, as I ordered my hashbrowns at the Waffle House near my office in the suburbs of Nashville, I found myself scrambling to find the right words. 

"Smothered (sauteed onions), Covered (melted cheese),…" my voice trailed off.

"Do I want it chunked?" I thought to myself. "Not today. But, I want mushrooms. What's the right word?"

"Capped," I said a bit louder. 

I felt a shot of dopamine run through my system in the form of a reward because I found the right word to use to speak the waitress's language.

It was only as I was eating my raisin bread and cheesy scrambled eggs that it occurred to me that I had adapted to my environment to speak the language of the Waffle House staff. 

Well, almost. This Yankee did not call the waitress, "Sweety" as they typically do to the guests here in the South.

Language is a key to culture. This is true of societies, communities, families and companies.

Mining the language your customers use in their feedback and comparing it to the language you use as an organization can help you identify where you and your customers are connected or disconnected.  
Are you literally speaking the same language or not?

You may be thinking this just applies to trivial things like knowing how to order my favorite hash brown toppings at the Waffle House, but there is so much more.

Are you speaking in acronyms that only employees who have worked with the company for ten years understand.  You would've heard this type of language used when I was on a call with the Army's Soldiers for Life team yesterday.  The military is the epitome of creating a unique language that clearly says, "We know you're not one of us if you don't understand."

But there is more than that.

Do you customer service representatives match the language of the customer and translate the between the internal and external languages flawlessly?

Do your representatives match the tone, pace and emotional pitch of the customer on the phone?

Now let's dive even deeper.

At a recent conference in the text mining industry—talk about a language and culture of its own—I shared samples of research where my company was able to identify the differences in the satisfaction of customers by their use of articles (i.e. a, an, the) and personal pronouns as well as the complexity and length of sentences. It was possible to show a higher probability of a comment being positive or negative without the assistance of reading the content words (i.e. nouns, verbs and adjectives) or measure the sentiment of scored adjectives and adverbs.

I don't recommend listening only to the articles and pronouns, but these and seven other types of words create the structure of the sentence and can be used to measure connection, engagement with your company and customer culture, and more.

How does this relate to my breakfast at Waffle House?

I became aware that I was adapting to my environment and the culture of the Waffle House when I was struggling to find the right word for "mushrooms."  But, how did I adapt my speech patterns in other ways that I did not recognize?  Did I assimilate into their culture or did they know I was an outsider?  

They knew. And, as I was editing this article I saw a clue that I may have made adjustments. I non-consciously used the word "scrambled" to describe my mental state in the first sentence, probably because ordered my scrambled eggs just a few moments before. This environmental clue and the recency of my use of the term made it the most easily accessible word to describe the mental struggle I was going through.

The masterful part of this breakfast experience was that my lovely server, Jill, took it all in stride and treated me with the empathy I appreciated. She gave me a few moments and found another task to do as I read the menu. Then, she returned as happy to serve me as before. 
She had been well-trained either by the Waffle House or she was selected because of her ability to adapt to guests easily.  Either way, Jill's level of empathy led to a connection that both gave me an enjoyable experience and inspired this article. Thanks, Jill.