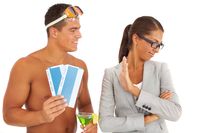 I had to stop reading so I could vent a bit. 
Today, I have been doing research for my book,
The Customer Within.  
While I was reading literature from companies that provide software and services in the customer experience arena I was shocked at how they continuously used the phrase "know your customer."  In doing so, they were espousing how much better the customer's experience is when you know your customer.
I agree with that concept in principle, but they went too far.
They reasoned that if you have enough information ABOUT your customer you KNOW your customer.  
That is ludicrous!
As a history major I studied hundreds or thousands of historical figures.  I knew lots about them. But I never knew a single one of them.
As a customer experience analyst and consultant I've read millions of pieces of feedback but I don't know the authors of these comments.  I just know something about them and how they may have felt at a particular moment in time.
Just because we can peak into the lives of other people on social media platforms and record their actions on our apps or websites and we have their purchase history, does not mean we know them.  It means we may know some things about them, but that is far different than knowing them.
If you read an article about your favorite celebrity in the latest issue of a popular magazine and she reveals her favorite movie, do you know her? No! You simply know something about her.  Stalkers claim they know the celebrity when, in fact, they only know a lot about her.  
Can we stop assuming that we know each other just because we know about each other?  This will be the start to acknowledging that we don't yet have a relationship. And, that will allow us to approach each other as equals with integrity as two people who want to get to know each other.