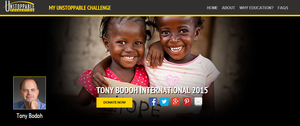 As a company, we invest most of our time studying customer experiences of companies that span hospitality, financial services and insurance, well-being, personal development and technology.  But, what about non-profits? How do they support their "customers?"
Over the last few years my company has looked for opportunities to give back in ways that match our values.  One organization that stood out in our research was the
Unstoppable Foundation
.  
Founder, Cynthia Kersey, works with her team to build sustainable villages in Africa. This means they provide education, sustainable farming, fresh water sources, education and income generation.  In other words, they take a systems approach to solving the problems families face rather than just fixing a touchpoint that is painful.
I had the opportunity to talk with Cynthia a few weeks ago and was impressed with the progress she and the Unstoppable Foundation are making.  As a result of that, I decided to throw extra support behind them.  So, in celebration of my 40th birthday this month, my company and are matching donations that are made through our campaign page.  Our goal is to build two sustainable villages.  If you would love to be part of this, or just to learn more about the
Unstoppable Foundation,
go to the following link.  
http://myunstoppablechallenge.org/Tony-Bodoh-International-2015