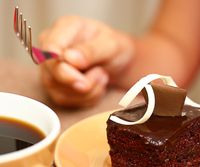 I really like dark chocolate. I like the bittersweetness. I like the "warmth" of it as I slowly savor it.  I like that I can rationalize it is healthy for me.
But I don't always want dark chocolate. I can see it near the cash register and I don't desire it. I am not motivated to buy it. I don't even pick it up.
What do my enjoyment of and inclinations toward dark chocolate have to do with customer experience research?  It could help you understand if you are studying the right emotions in your customer feedback.
Do you want customers to buy your products and services or do you want your customers to like your products and services?
Your CEO, Board of Directors and shareholders want your customers to buy first and like second. But, most product managers, market researchers and feedback analysts are focused on whether or not customer like their products and services or have a pleasant experience. This is why many research findings fail to drive sales when they are applied. The research is focused on liking, not wanting.
If you want to understand what drives a customer's behavior to buy, you must study their emotions and feedback leading up to the decision to buy (
Watch this 46 second case study
).  If you want to see if they liked something, you must study their emotions and feedback after the decision.  This comes down to a fundamental fact of brain science.  Desire or wanting uses different brain circuitry than pleasure or liking.  Confusing the two can be disastrous for your company.
Consider a prospective customer.  If she has never experienced your company's products or services or similar products or services in the market she will not know if she likes them.  You must focus on understanding what she wants, her desire. If you trigger her desire deeply enough she will buy.  Desire involves dopamine, the same chemical associated with addiction. This is what determines future purchases. Whether she enjoys the product or service may or may not impact her future desire to buy again.  Pleasure is not required to trigger desire and desire does not require the promise of pleasure.  Pleasure is the reward that arises from the presence of opioids in the brain and may occur during or after we satiate a desire. But it is neither a requirement nor a guarantee when we satiate a desire and it is transient.
Now consider your existing customers. They have had an experience with your products and services. They may have enjoyed the experience. But that does not mean they want the experience again.  We have seen customers who express satisfaction but also express that they do not intend to be a repeat customer (See "
Investing in a 5-Star Rating
").  Your efforts to remind them of what they liked may not be enough to influence them to desire another interaction with your company.  On the other hand, if your customers both want the benefits you offer and found the experience pleasurable, you may have the proper mix of motivation and expectation that make them a loyal customer.
Studying what motivates purchases requires a different focus than studying what your customers enjoy. Your CEO wants you to focus first on what motivates, then on what customers like.