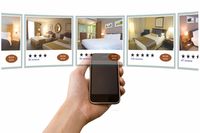 Customers have an innate sense of fairness.  They may not be able to explicitly tell you before they have an experience what is fair, but they absolutely will let you know after the fact what was or was not fair.
When we analyze online ratings for companies, products or services we find that consistently, the concept of fairness arises at the mid-point of the rating scale.  Let's say for instance, the site uses a five-point rating scale.  In this case, customers who select a "3" on their overall rating tend to describe the transaction or experience as being a fair value.  It was what they expected for what they paid.  It was worth the experience, but they are not likely to pay for it again.
Does this make sense?
Customers believe it was fair, but they explicitly say they do not intend to be a repeat customer.  Absolutely!
Traditional "rational" economics dictates that businesses should extract every penny of value from each transaction for maximum profitability.  This may work with purely rational customer.  But, it fails to realize how real, irrational, emotional humans behave.
Real humans expect fairness. But, in today's abundant market situation, fairness does not create loyal customers.  
Loyalty requires trust.  Trust is an emotion and has been scientifically traced to a specific, predictable cascade of chemicals in the human body coupled with the right environment.  
Dr. Paul Zak describes in his book, "
The Moral Molecule: How Trust Works
," that in the right environment, when oxytocin is released, it can trigger the release of serotonin and dopamine which are feel-good chemicals.  This results in feelings of empathy and pro-social actions that lead the recipient of the action to trust the actor.  
Consider it in non-scientific terms.  You are about to purchase something.  Maybe you have your heart set on a new tv. You really want it and you know that the price is fair.  
The sales person who has been assisting you is waiting for your answer and can sense your desire and your hesitation.  He then says, "I will tell you what, I will throw in delivery for free and give you $100 off installation."  
WOW!  You smile and say, "Ok, I will buy it."
The sales person could have let you debate the decision to buy the tv at the set price, but instead, at the right moment, he acted in a pro-social way.  He gave you something that was more than fair.  It was something free.  Something special that you may believe is just for you.
And, you bought it.  Literally.
Economically, the sales person gave up some revenue and profitability on this transaction.  But, what did your company receive in return?
Assuming the delivery and installation go well, and the company has the right mechanisms in place, you will tell others about the experience you had.  You will write a review of the product and the store. You may even bring others into the store. You will likely come back for the next purchase you want to make.  You might even be blinded by the memory of this positive experience in such a way that you either don't look to compare prices on the next purchase or you rationalize the higher prices because of the experiences you have at this store.  In your mind, its worth the premium.
This happens every day.
When we examine the 4 and 5 star ratings on online review sites, we see that customers have had a multiple multi-sensory positive experiences and that they will either rationalize higher prices or blindly commit to future purchases that they often follow through on.
When you invest in being "more than fair" you invest in a relationship.  And, the early stages of that budding relationship can often involve a 5-star review of your company, products or services online, in the exact place that other prospective customers are researching where they will make a purchase.
But, there is one key that you have to remember.  The pro-social action that leads to loyalty cannot just be another sale.  It has to be associated with the moment that empathy is shown by the sales person and the "gift" that is given must be made explicit so that the customer can see the pro-social act and reciprocate accordingly.  Timing and awareness make the difference for your investment in the gift to pay off.