I recently had the opportunity to work with one of the world's top mental performance coaching companies.  They brought in their coaches from around the world who work with athletes in a variety of sports ranging from amateur teen soccer players to professional baseball and football players to olympians. There were also coaches who work closely with top executives and business owners as well as international political leaders.  These are master coaches who help their clients move through challenging experiences to reach and sustain peak performance for extended periods of time.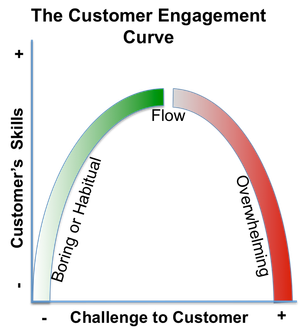 What do you teach master coaches?
I shared my Customer Engagement Curve and applied it to the principles that they use to help the athletes and executives achieve their goals.
You may think of customer experience as positive, neutral or negative. The Customer Engagement Curve shows a new dimension of the experience. Let's break it down.
In every task the customer must perform, there is a level of challenge from low to high. Each customer brings her own skill set to the challenge which can also be rated from low to high.  The point at which the customer's skills match the challenge she faces is the starting point for growth of a new skill.  Prior to this point on the curve (i.e. in the green zone), she knows what to do and how to do it.  After this point (i.e. beyond the green zone) she doesn't have the skills to deal with the challenge.
If the customer's skills exceed the challenge, she will either be bored or only operating from a habitual, possibly mindless state.  This is likely where she considers the task to be neutral, unless there is some inherent joy, pleasure or other positive state that the performance of the task generates.  
As an example, it requires relatively little skill to watch a sitcom, which is why they are played during the dinner period after the end of a long day of work and before we are refreshed with a meal. We are often emotionally and physically exhausted which means our abilities to perform challenging tasks, like following a complex plot, are diminished. Therefore, the easy laugh requiring low engagement and prompted by a "live" audience keeps us in the habitual state of watching our favorite show.
On the other hand, if the challenge far exceeds the customer's skills, she will become overwhelmed and start to shut down emotionally and rationally.  This can lead to fight, flight or freezing if the customer proceeds into survival mode.  This is typically what happens when you hear negative feedback from customers.  They have gone beyond their skills to manage the situation and fight back.  It is also the place where customers tend to go silent because they "freeze" and cannot communicate.  Some customer experiences trigger a learned helplessness and the customers decide silence is better than reaching out because, "there is no use."
The optimal place for companies to generate good will from customers who are ready to engage their brand is in the small area marked "Flow."  This is the state that is just beyond the customer's current skills so she has to pour her attention fully into the task.  She forgets about her concept of self because she cannot afford to doubt her skills or worry about what others think of her.  She becomes one with the task and it feels fluid and she senses that she is at the edge of absolute control. In the moment of flow, there is no realization of the emotion associated with the task. Her limited conscious attention cannot be wasted on this luxury. Instead, after the task is over, if she was successful, she will feel a tremendous sense of accomplishment and even a deeper connection to who she is at her core.  And, she may develop a halo effect with your company because you helped her achieve that state of flow that allowed her to grow her skills. If she fails in the task, she may feel badly and blame your company rather than accepting her portion of the responsibility for the failure.  This often results in negative feedback.
How do you move your customer to the edge of flow and help her achieve her goal successfully?
1. Create a task that is just beyond her current skills, but not so far that it triggers frustration or overwhelm.  The magic number is about a 4% stretch beyond her current skills.
2. The task must have a clear goal that she is aware of and buys in to. If she is unaware she may slip into overwhelm because the outcome is unclear and she does not know where she is headed. If she doesn't buy into the goals, she may disengage and be ambivalent.
3. Give her a way of receiving immediate feedback so she knows if she is on course or off course. This feedback will allow her to maintain flow from moment to moment and will help her be confident enough to keep with the task until she either completes it or decides to engage your support.
4. Have options easily available so she can receive immediate guidance that is trustworthy, empathetic and supportive of her growth.
It's not surprising that the coaches I was training grasped the concepts I shared.  It was a demonstration of what they do with their clients. They invite the athletes, executives and political leaders to go just beyond the comfort zone into a state of creativity, flow and peak performance. It is truly a service for their clients. It will also serve your customers.
Check out the coaching
we can provide for your leadership, sales and customer service teams so they maintain their peak performance.