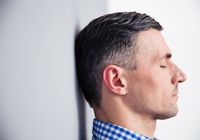 What could possibly be worse than a low-rated review on Yelp for a small business like a restaurant, medical office, dental practice or mechanic?  Or on TripAdvisor for a hotel or attraction? 
We'll get to that in a moment.  First I want to share an "Aha!" that I had recently.  
We are just starting the fourth stage of evolution in the understanding of online reviews.
In this post, I am going to take you through the four stages of online reviews that have really affected businesses and share my perspective of where we are headed next.
Stage 1: Businesses believe Yelp and TripAdvisor are signs of the apocolypseTimeframe: June 2007-September 2011
During these 4 years most news or blog content about online reviews focused on either the negative effects or on the uncertainty of any effect of online reviews. There were some academic sources with mixed results, but in general business owners and sales leaders treated online reviews and the sites that hosted them with scorn, contempt, fear or even anger.  They believed most negative reviews were fake, written by their competitors to discredit them.  
What drove the start of this era was the i
ntroduction of the iPhone
 in June 2007 and its advanced abilities, at the time, to connect to the internet and allow browsing with relative ease. People could instantly post reviews while sitting in a restaurant before the check arrived or while riding in the taxi on the way from their hotel to the airport.  In addition, prospective customers could now actively search for crowdsourced feedback about companies, products and services as they were on their way to make a purchase.  This era reached its end in September 2011 when Harvard Business School released
Michael Luca's study
 about the positive effects of Yelp on businesses. He showed that an additional star in ratings meant a 5-9% in additional revenue for restaurants.  This study was the first notable and well-publicized account that I've found of Yelp helping businesses. It marked the end of the era of negativity and brought an era of more balanced consideration.
Stage 2: Business are open to the listening to the benefits and some even actively support the review sites
Timeframe: September 2011-November 2012 
These fourteen months were the peak of the landmark research efforts showing the positive effects of online reviews and social media.
Oracle
,
American Express
and
Cornell University
all produced breakthrough research that was widely reported on. It not only crossed platforms from Yelp to other sites, it crossed industries. Cornell's research in the hotel industry really cemented the value of positive reviews when the report was released in November of 2012.  The authors showed that hotels could actually drive pricing up by over 11% if they moved up one star in their rating while still maintaining stable occupancy. These reports are also widely linked to as original sources in much of the content that has been produced since that time. It was in November 2012 where the tide turned dangerous.
Stage 3: Businesses are barraged with superficial or even bad advice
Timeframe: November 2012-February 2016
This is the most dangerous stage of evolution. While many more research efforts were completed and reported upon after the Cornell researchers released their study in November of 2012, much of the new research just confirmed or updated previous or studies. From 2013 forward there has been a rise in articles, blog posts and white papers that refer to the research from "Stage 2" as a foundation and then the authors of these pop articles go on to provide unfounded advice as to how to move ratings up for businesses.  It is common to see recommendations to "exceed expectations" or to create "remarkable experiences" and other such superficial tips. These are unfounded and dangerous for a number of reasons including:
There is little or no research that actually points to a link between these suggestions and improved scores or the financial impact of these efforts;
Business owners or leaders are given lists of statistics from various sources with the implication that these metrics are connected and causal when in fact there is no connection;
Business owners or leaders who attempt to improve their ratings are at a loss for a strategic approach because there is not meat to the recommendations;
Approaches that are hyped have not been proven and they can cost more than necessary to make changes;
Many businesses don't know how to or don't have the ability to track their return on investment (ROI) because they had no defined path or project approach; and,
Businesses have attempted to implement many change programs without proper testing and experimentation so they don't know what, if anything is working
While we will continue to see many articles, blog posts and white papers that promote superficial recommendations for some time in the future, the advance of data science as well as the broader adoption of software tools will allow the discipline of a scientific methodology to develop and real proven solutions for specific situations and circumstances will emerge.  This marks the dawn of Stage 4.
Stage 4: Businesses have scientifically proven tools to make positive strategic impact by using online reviews
Timeframe: February 2016-???
The emergence of Stage 4 is marked by the publication of the book I co-authored with Kayla Barrett,
"The Complete Experience: Unlocking the secrets of online reviews that drive customer loyalty."
I know, it sounds self-serving, but give me a moment to explain. 
This book opens the door to a new era of a scientific approach to researching customer behaviors, feedback and emotional engagement. It links the feedback from online reviews as the cause of shifting patterns in consumer purchasing patterns. It goes further to link employee engagement as the direct cause for online reviews and rating levels. And then, it offers fifteen exact steps for readers to take to start improving their companies' online reviews. These fifteen steps layout the exact question to ask when creating a vision of the ideal customer experience so that it can be exactly defined with words rather than ratings (i.e. "We want a '5'."). The steps actively involve a company's whole team and builds employee engagement through the process. Then the steps help the reader review her company's online feedback and show her how to prioritize action so she can move the company's ratings up.

Why Stage 4 Now?

The findings and recommendations in the book were based on the work Kayla and I have done in our respective companies and in our careers prior to starting our companies. For me, that included fifteen years of building customer intelligence analytical teams and programs for companies ranging from the Fortune 150 down to startups and crossing industries from financial services, insurance, direct marketing, technology, consulting, healthcare, personal development, entertainment and hospitality. Together, we've developed a proprietary method of research and action planning that consistently delivers positive impact to companies. The results speak for themselves: 
90% improvement in sales in the first campaign after our recommendations were implemented
400% improvement in upsales in one week after our experiential employee and leader training concluded
200% improvement in satisfaction in three weeks after we facilitated cross-departmental discovery sessions
600% improvement in online ratings in a year after leadership took action on our recommendations
Stage 4 is only possible now because it is supported by:
The coming of age of the research methods that merge quantitative and qualitative methods;
The availability of low-cost, highly effective technology to support research and monitoring of themes in feedback;
The understanding of the leader-employee-customer-profit dynamic; and,
The integrated approach to recommendations that start with a specific desired end state (i.e. more sales, better satisfaction scores, higher online rating, etc.) and ends with the implementation of development programs which recognize the leader and employee as the direct cause of customer experience improvement
While the journey has been painful for many of us to watch and be a part of, it has also been fascinating and energizing as we broke through old barriers and establish new norms for those following behind.
Will there be a Stage 5?
Of course there will be a Stage 5. But, I will save my view of what that is for another post.
I always appreciate feedback. What are your thoughts about the four stages of evolution of online reviews?
If you would like to improve your own online reviews or your internal surveys, contact me and we will
schedule a strategy session
to discuss your objectives and desired outcomes. Or, just learn
14 simple, easy, highly effective, low cost ways to generate more sales with your online reviews
.