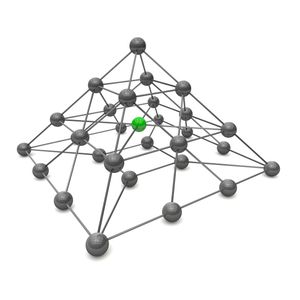 Congratulations!  
You've built up a centralized customer experience model and have seen successes. But there have been challenges too. So you are exploring the web and attending conferences to find best practices. You've likely heard the discussions and seen the research promoting the federate customer experience model. This may be a good choice for you. It was the approach I took with several companies.
To be transparent, over the last ten years, I have built or guided the building of multiple customer experience teams using different models. If you place the purely centralized model on one end of a spectrum and the federated model on the other, I have supported several degrees between the two. And, some of these programs are now models in their industries or in the broader customer experience arena. I mention this, to make you aware that I have seen several models. None of them are perfect, but all of them have advantages.
In my experience, the centralized model faces challenges in organizations where it is limited to a research role. While each company is different, typically, the CFOs approach this and related market research as an expense that must be contained. As a result, budgets are limited and ROI is difficult to prove because product and customer service teams don't want to share the ROI benefits of changes they had a significant role in implementing--even if they would never have know what to address without the centralized customer experience team's research.
I've seen my share of centralized teams struggle. Sleepless nights. Frustrating meetings. Turf wars that lead to damaged relationships. This is often the time when the leader who is passionate about improving customer experience starts to look for alternative models that will result in acceptance and adoption.
Before they go too far down the path they need to evaluate these five areas of readiness:
Vision
Do you have a singular vision of the ideal customer experience? If so, is your company--from top down and from one end to the other--in agreement with your vision of the ideal customer experience?
This ideal vision should include the description of the 'must have' emotions, attitudes, beliefs and mindsets of the customer who has a relationship with your company. The ideal vision is then used to inform the vision of each customer journey, product and touchpoint. In the centralized model, you may have that vision. But, is it shared across the company? If not, this may actually be a source of your challenges.
Building a unified and accepted vision of the ideal customer experience will significantly increase your success rate because your agenda is clear and it defines what the organization is striving for on each customer service call, product design session and each pixel of your app or website.
Capability
There is no lack of technology for customer experience professionals. But, technology does not make a capability. This is a challenge too many C-level executives fail to really understand. The greatest area of demand today is not in more or even better tech (although I have some recommendations in this area), it is in the need for data interpretation and analysis skills and in the need for advanced understanding of consumer behavior and psychology. But, these too cannot stand alone. A customer experience research capability requires these five things at a minimum:
Consistent collection of customer feedback and behavioral data 
Data analysis and interpretation skills
Advanced understanding of consumer behavior and psychology
Technology to accelerate data mining and automate the mining of known themes in unstructured data
Expertise in simplifying the communication of complex ideas so the audience takes action
You likely have these built into your centralized model, but do you have these skills spread throughout the organization? If not, you can develop them or contract them. But, fundamentally, you have to build a plan to internalize these if you consider your customer experience to be a core competency of your business. 
Customer 
Does your customer expect a unified experience across all divisions of your company? Do they expect divisions and departments to share knowledge and data? The answer to these questions may not be as obvious as you think.
In the financial services industry you may find one company that promotes the concept of being the one-stop-shop where another promotes specific products rather than a multi-product brand. The former creates an expectation in the mind of the consumer that they will share information across organizational (or regulatory) silos whereas the latter is only promising to be the best in a narrow segment of services. The customer judges their engagement based on these expectations.
When you shift from a centralized to a federated customer experience model, you must be sure that the model still supports the appropriate level of centralization that the customer expects. If your centralized model is not adequately solving this issue in your customer feedback, shifting the model is only likely to aggravate the issue even more because each federated team is then empowered and likely incentivized to explore the customer experience only in relation to their department or division. This leads to a devolution of customer-centricity and is a masked version of product-centricity.
Political
Do you currently lack the political sway in your centralized customer experience model to affect budgets, decisions, and resourcing? If so, don't believe that it will suddenly change when you introduce the federated model. It will likely only get worse.
The federated model empowers the localized teams to act without regard to your centralized guidance and authority. A change in a department head elsewhere in the company can have a profound effect on the results of your team in a centralized model. Consider the impact in a federated customer experience model. It is exponentially greater because they now have the power to generate their own reports, interpret data as they choose and ignore your governance. The decision to federate must not be based on your perception that it will gain you more power. It won't. You will lose control and you will spend most of your time herding cats. Federation is not about gaining power, it is about giving power away in a responsible manner.
Culture
This is the crux of customer experience. What does your company believe? How does it behave? How do the constituents see themselves as part of the company and how do they see the company in their lives?  
The federated model will amplify the culture you have in place. If your company leans product-centric, this will only make it more product-centric. If your company has tall silos with thick walls, the federated customer experience model will only buttress those walls. If your C-suite does not believe that customer experience is the key to differentiation in the market and the source for future growth, adopting the federated model will not resolve that issue.
In every customer experience maturity model that I've seen, the highest level of maturity describes culture. Prior to this level the culture has not yet converted. And, the real challenge is this: Cultures do not evolve. They are the result of decisions because cultures are about what the constituents of the organization choose to believe about how the world works. These are decisions that are made.
While it may take repeated, persistent and consistent exposure to an idea to influence a person to change their mind, the changing of the mind happens in an instant. There is a clearly definable moment when we move from being a person who believes the world works one way, to believing the world works a different way and automatically, subconsciously, behaving according to that belief. Adopting the federated model will not necessarily change your company culture from being product-centric to customer-centric. Rather, it is the continuous and unrelenting effort of your internal influence marketing that will shift the culture. But that is a discussion for another article.
In short, if you are considering the adoption of a federated customer experience model, it might be the right choice for you. Most of the organizations I have worked with had some level of federated model. The most successful addressed the five points above before adopting the model and the least successful adopted the model to address the points above.  
*** 
Tony Bodoh is the co-author of the #1 best selling book, "The Complete Experience: Unlocking the Secrets of Online Reviews that Drive Customer Loyalty" and he is the creator of the 30 Day CX Challenge where employees quickly learn how to really listen for the hidden patterns in what customers say or write and then how to effortlessly act to evoke a 5-Star customer experience.