During a re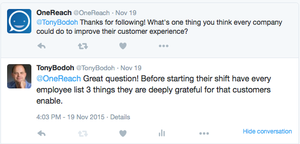 cent a Twitter discussion a follower asked me (@TonyBodoh):
"What's one thing you think every company could do to improve their customer experience?"
I loved the question for two reasons:
First, most companies focus on changing too many things at one time. Each team, project manager, etc. see their area as stand alone and they hardly take the time or ask how their changes will affect the whole system that creates the ecosystem that customers interact in and with. Without focus on a fixing a very narrow set of triggers that impact customer experiences and as a result, the customers' future buying decisions, the company may fix many local problems while creating several new systemic problems. So, to ask what "one thing" companies could do shows the wisdom of understanding the value of focus.
The second reason I loved the question was because it asked for a universal answer for something "every company could do." This may seem like a nice question and could result in a cliche answer, but the reality is, any company can make massive improvements in customer experience. I see so many companies and experts unaware that they are limiting themselves and their companies when they ask, "How can we get a "10" on the survey?" or "How can we outrank competitor X?"
I believe these are the wrong questions because they have the company at the center, not the customer. Making massive improvement in customer experience our objective means we can forget about competing and focus on evoking an experience that customers have never had before. Something that they will choose to use to measure every interaction they have with all companies. We know we achieve this when we hear our competitor's customers or even customers in other industries ask, "Why can't you be like (insert your company name here)? They know how to treat their customers!"
Why focus on a survey score when, next week someone could set a new standard and make what was your "10" today an mere "8"? You will always be chasing the competition and you will never build a culture of massive improvement that habitually outthinks and outperforms your competitors.
As you can see, this question really caused me to think. But, how did I respond?
"Great question! Before starting their shift have every employee list 3 things they are deeply grateful for that customers enable."
Gratitude is a renewable resource that actually grows in value the more of it that is available. In an experience economy, experiences add value the more we have, whereas in an economies built on physical commodities or products or services, the more that exists, the less each is valued. 
In the quality movement and during the era of the balanced score card, we all attempted to tie an employees actions to a corporate metric so each employee could see how they contribute to the company as a whole. This is not wrong, it just seems to be incomplete. Why? Because it again puts the company, not the customer, at the center of the picture.
What if we put the customer at the center?
What if we asked employees to focus on what the customer enables in their lives?
The warmth and security of a home. A fresh steaming hot meal on the table every night. Clean clothes. Children receiving a great education and having the opportunity to play sports or to learn to play an instrument. How they can give to their church or to build a home with their neighbors for a family that is homeless. And on and on.
When employees learn to connect the customer, not just the company, with the meaningful things in their lives and the employees practice feeling the gratitude for what the customer is providing, the employees will shift. They will generate empathy. They will listen more carefully. They will seek out solutions more diligently. They will go the extra mile to solve problems or even to eliminate the problems before customers experience them.
A sustained practice of gratitude that connects the customer to what is meaningful in our lives creates a power that can transform every company, every products and every service. It transforms every experience into an expression of deep gratitude.
Don't let Thanksgiving happen just one day a year. Feel and express the gratitude of Thanksgiving every day, even several times a day. It will change everything.