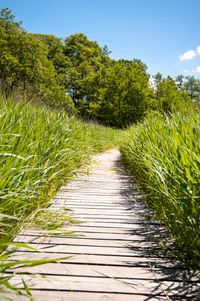 "Tonight we're set up for a family atmosphere," my client pointed toward a table where kids were enthusiastically painting signs to support the home team.
"In a few nights we'll be hosting a playoff game and that will be geared more toward the sports fanatic who's is a diehard supporter of our team.  We craft each night to bring out a unique experience for the fans we attract to that event. That way our guests can choose the one night a week they want to come to have the experience they want or they can come several times a week and have a different set of experiences."
I scanned the crowds of excited fans. Many were standing in line to order some of the highest-rated food that sports arenas offered in the U.S. Others were browsing the newest offerings in the apparel shop. Around one corner, the cheerleaders were dancing with young kids whose parents were snapping pictures of their sons and daughters having that once-in-a-lifetime experience.  It was a beautifully architected and masterfully executed melding of dozens of unique environments that created the ecosystem that made this the top-rated indoor arena in professional sports.
I was blown away. I could see in person what I had struggled to find data for, but yet I intuitively knew was real. It was the defining moment that began a new era for the research I was doing in customer experience.
Seeing Things in a New Way
Over the years I've had the opportunity to work with many of the top-rated consumer brands in the world. And, I have worked with brands that stagnated or went into a free-fall and have yet to recover. What bothered me is that I could not identify the key differentiator between success and failure.
Sure, we all know that more positive ratings and a positive net promoter score is indicative of better performance. But those are lagging indicators. I wanted to know what it was that shifted within the company that was the catalyst for one company to succeed and another to drop in comparative rankings?
The popular answers point to the need to "be more focused on solving problems" or "to be more empathetic" or "to make it easier to do business with."
I admit I preached those same mantras for a while. And, there is some truth to them. But, if you look deeper, what are they really saying?  
Not much. 
It's like telling your kids to "be good" or to "get an 'A' in math."  They are statements that don't really solve the problem at all.
I intuitively knew that what I saw that night roaming the halls of this great arena was the answer. And, after much research, I know my intuition was accurate.
Two Paths in Customer Experience
When I graduated from high school my English teacher gave me a copy of Robert Frost's poem, "The Road Not Taken." I share it here so you can read it from a new perspective today:
"Two roads diverged in a yellow wood, 
And sorry I could not travel both 
And be one traveler, long I stood 
And looked down one as far as I could 
To where it bent in the undergrowth; 
Then took the other, as just as fair, 
And having perhaps the better claim, 
Because it was grassy and wanted wear; 
Though as for that the passing there 
Had worn them really about the same, 
And both that morning equally lay 
In leaves no step had trodden black. 
Oh, I kept the first for another day! 
Yet knowing how way leads on to way, 
I doubted if I should ever come back. 
I shall be telling this with a sigh 
Somewhere ages and ages hence: 
Two roads diverged in a wood, and I— 
I took the one less traveled by, 
And that has made all the difference."
My wife framed a copy of this poem many years later as I started out on my journey of creating and building my own business. She knew that this was a poem I often came back to in moments of decision. It became a north star for me. It is a sort of reminder that to achieve something different than what the masses have achieved, I needed to make different choices than the masses made.
That brings me back to the moment when I was walking through the arena. I realized the leadership team made a choice that was different than the leadership of other arenas. It is the same choice that faces every business every day.
Do you choose to make your customers happy?
Or...
Do you choose to create the best version of the experience you can imagine possible?
The leadership of this arena chose to create the best version of the experience they could imagine because they knew that "making customers happy" was not a sufficient goal. Each night meant a different set of customers. Therefore, what was required to make the customers happy changed from night to night. Further, they knew that their best marketing was not what happened on the TV or the radio or on their website, it was what one fan said to another fan at the office, in the gym or on the phone the next day. Word of mouth was the key driver of attracting more fans who were like the best and most loyal fans that the arena already had. As I've said before, "market what your customers value and you are able to consistently deliver." This is what this arena's leadership understood that most other companies never learn. 
Does Not Focusing on Happiness Pay Off?
Steve Jobs famously said that customers do not know what they wanted. I think what he meant by that is if he chose to make them happy, they would have gone on asking him to make minor improvements to the way they were living. Instead, Jobs imagined a whole new destination. He then chose to create the best tools possible to evoke that experience. With the iPod he imagined 1,000 songs in your pocket. Then he created the tools that would enable that experience.  
Most companies today choose to make their customers happy. They choose this for one of two reasons.  Most are unaware that they have another choice. Those that are aware are afraid to make that choice for the second option because they will be doing what no one else is seeming to do.  Being alone seems very scary and it triggers one of humanities oldest fears. That's why those who see this possibility turn away from it.
The fundamental choice in customer experience then is to choose to make your customers happy or to create the best version of the experience you can imagine.  The difference in the outcome of this choice followed by committed action is astronomical.
Apple is currently ranked as the most valuable company in the world.
Steve Jobs returned to a nearly bankrupt Apple in 1997. By 2007 Apple introduced the revolutionary iPhone after the successful launches of iPod and iTunes Store. The iPad was released in 2010, just six years ago. Together these tools changed the course of humanity. Today, Apple holds steady in its position as the most valuable company in the world. In less than 20 years, the commitment to creating the best version of the experience one can imagine as opposed to making customers happy, has resulted in a series of world-changing products and billions of dollars of sales and millions, if not billions, of happy and loyal customers.
Where Most Companies Go Astray
Most leaders choose to try to make customers happy.  They fail to realize that they have now subverted the mission, vision and values of the company they work for based on misguided beliefs.  For starters, any company that decides for a value of customer happiness is ignoring what psychologists and neuroscientists have proven over the last 15 years.
We know now that happiness is not the result of something outside of ourselves, it comes from within. Happiness is a choice. Choosing to try to satiate customers who are unhappy instead of boldly proclaiming what experience the company intends to create followed by the unceasing effort to create that experience and to attract customers who want to have that experience is a fool's errand. Not one of us can make another person happy. At best, we can give them the tools of awareness so that they can choose happiness, but that is as far as we can go.
Companies that focus on making customers happy are focused on making something outside the customer better. They are contributing to the ignorance of those who believe they must "get" happiness or "pursue" happiness rather than simply choose happiness.  As a result, these companies set themselves up for failure.
If they succeed in making a customer happy, it is only for a moment. Then, the hedonic treadmill turns on and these customers find themselves running faster and faster after the next version of the best thing since sliced bread.  Like a drug (actually it is caused by an internally produced drug), this boosts sales in the short-term, but is unsustainable long-term because no company can innovate fast enough to outpace human desire. The moment a person is satiated they have new, more expansive desires. Companies that market and sell happiness are not long able to fulfill their promise so their customers choose to leave for the next new thing a competitor offers or they remain sullen, dissatisfied and unhappy. 
What does this mean for the customer experience industry?
It means we have to focus more on helping leaders decide what experiences they want to evoke in the world. We must help these leaders create a vision that is qualitatively rich and quantitatively deep. We must embrace the science of human experience and apply proven principles that often defy the "common sense" or "best practices" of the day.
In short, we must not focus on making our clients or leaders happy. We must decide that we will create the best version of the experience we can imagine for them and then we must commit to evoking it regardless of the cost. In the end, we will achieve our goal, and, like Steve Jobs, we may just "ding the universe."
In February I co-authored "The Complete Experience: Unlocking the Secrets of Online Reviews that Drive Customer Loyalty" which quickly achieved #1 best-seller status in retail and hospitality and soon was a top-ranked business book. In the book, we address the need to define your vision for what you want customers to experience. We describe how online reviews are really a form of marketing content from past buyers for future prospects. We share how you can mine these reviews to help you determine what an excellent experience is for your company or your industry and how you can build the team and processes to consistently deliver on the promise these reviews make to future customers.

The fundamental question you must ask yourself if you are in the customer experience field is this: "Do I believe it is my job to make customers happy or is it my job to design the best experience I can imagine for the customers I want to attract?"