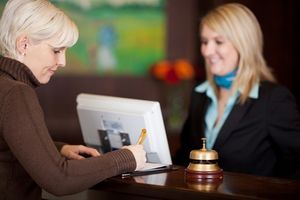 "I heard everyone in front of me getting the same explanation from the front desk agent, 'We're sorry we only have king beds left and there are no more rollaway beds available.' They all just went along with it. They were content to squeeze three or more people in just one bed. Not me! I had four people in my group and I made a reservation with a credit card months ago. I demanded a solution."
My friend was telling me about her experience that happened the night before. At that moment we were both waited for our daughters to step on stage for their respective Irish Step Dance competitions.  She was still fuming and incredulous about the whole situation. I had heard similar stories from other families that attend the same dance school as our daughters.  I was glad we booked late and were "forced" to stay at a nearby hotel.
I find it interesting that there are still a few industries that get away with doing things that no other industry possibly could. Hotels are just one example. Airlines and banks are two others, but I will save them for later posts.
Hoteliers, and I am a recovering one, seem to fail to comprehend what credit cards mean to those who use them regularly. If you ask anyone, they will tell you that when they give you their credit card number and the relevant information, they have made a purchase.  To most people, it is the equivalent of the transfer of cash from one hand to another or the signing of a contract.  
Yet, hotels get away with ignoring the norms of accepted human behavior and a foundational human mindset.
They take your card and will demand payment, even if you can't show up because conditions out of your control prevent it. Mechanical or weather delays for the airlines? Too bad. Hotels will charge you for the missed night.  But, if you arrive at your hotel and you booked a specific room type, the courtesy is not extended to you to guarantee the room type you requested.  It's a lottery at best in many hotels, especially if they are busy that particular night.
The problem I, and most other guests, have with this is that we know that the hotel does not change the number of beds of each type that they have in inventory from day to day.  Yesterday there were 100 kings. Today there are 100 kings. Tomorrow there will be 100 kings.
Why then do hotels insist on NOT updating their reservations software so that people can get the room type they reserve? Do they fear the loss of a sale if a prospective guest was to know that the type of room she wants is not available at the time of the reservation? Or, do they believe it is acceptable to make this a one-way street where the hotel can make promises that they cannot keep and guest just have to live with it?
Regardless of the reason, if hotels don't figure it out soon, they will lose more business to Airbnb and other alternatives that will be more honest, direct and service oriented.
As for the my friend?  She swears she will never stay in the brand of the hotel that gave her the trouble. And, she was not the only one that I heard say that. 
This is not an issue of a single hotel. This is a brand issue. This is an industry issue.