If you follow my posts, you know I run a consulting firm that analyzes customer experiences in order to help companies improve their service and innovate new products. In that time I developed some ways of researching to find the best hotel deals fast for my business or personal travel. I thought my lessons may be helpful to others so I decided to share it in this post.
It can be a challenge to find a good hotel room on a budget, but it is possible. And, when you know how to use the filtering tools TripAdvisor provides, you can find the best deal, faster than you'd believe. 
So, forget about the other sites where you look for the best rates and then have to go research each possible hotel before you make a decision or you bid and take a chance on the quality of the service. Turn the process on its head. Start with the end in mind: start with the experience.
I spend much of my time in hotels. For five years I worked at the corporate headquarters for Gaylord Hotels (now owned by Marriott) where I was responsible for building their analytics teams and analytical systems as well as running their market research, guest satisfaction and meeting planner loyalty programs.  During that time I traveled several times a month to our 4-star resorts for meetings, research, interviews and to assist in process improvement projects. I loved the luxury and service of the Gaylord brand--the people were second to none--and I loved sharing these fantastic locations with my family when we traveled. My daughters were shocked later when we stayed at a hotel that did not provide room service. It's not that we needed to stay in luxury, but it sure has its benefits.
After I started my own consulting company I chose more reasonably priced hotels but I insisted on high quality service, clean rooms and great employees. These are critical when I travel. To put it in perspective, in one 13-month stretch I spent 300 days on the road. I have stayed a year of my life at Marriott hotels (see below). Unfortunately, I did not start my rewards account as soon as I should have.

So, with all this experience, how do I find the best hotels with the best deals, fast?  I have an easy, proven and repeatable ten step process.
Step 1: Go to TripAdvisor

I use TripAdvisor (and no, I am not paid by them for this post) because they have the widest range of hotels and a great sample of feedback for most of the hotels on the site. That matters to me. They also have the rates available so I can see if the price is right.
Step 2: Search for "Hotels" near the city you are traveling to
Once you are on the site, you can quickly type in the city you are headed to and what you are looking for.

I know this seems basic, because it is. We are getting to the tricks in the next few steps.
Step 3: Sort by "Ranking"
When the site updates with your city and the hotel listings, you'll see a "sort by" bar across the top of the hotel listings. Change the selection so it sorts by rankings.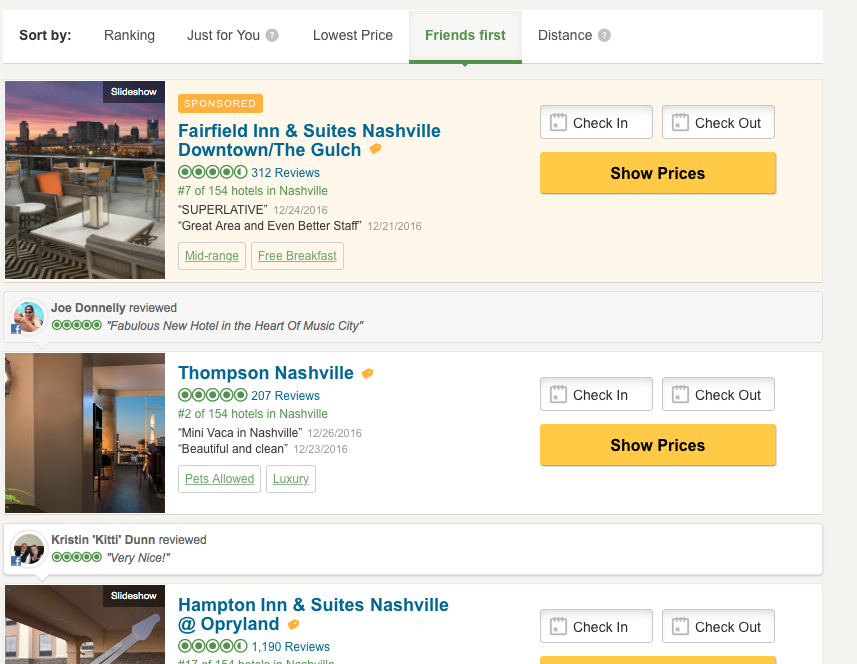 Rankings are important. TripAdvisor has a secret algorithm that sorts the hotels and ranks them, but the most significant factor in the ranking are the ratings provided by previous guests. Therefore, when you sort by rankings, you are seeing which hotels the guest most liked. 

Step 4: Select the Dates and Details of Your Stay
This step is pretty straight forward, but it is necessary. It also unlocks the tool you need to use in your next step.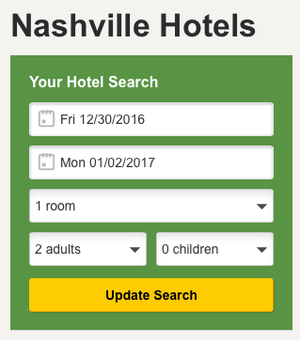 Step 5: Choose Your Budget
Decide what you are willing to pay and use the convenient slider bars to narrow your range. Frankly, I never move the low end. Who would? There might be a great deal waiting for me.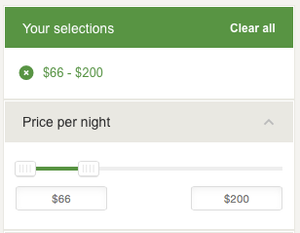 This is where some of the magic starts to happen. When you select your rates, you'll see the hotels in the list start to shift, and some will disappear because they are too expensive.  But, you have one more step yet to really find the best deals.
Step 6: Choose the Hotel Class
You do not want to miss this step or you will be scrolling through pages of poor options. Hotel class is the fancy name give to the rating levels provided by 'experts' who travel to hotels and check on the quality of their service. Do you remember AAA ratings? This is essentially the same type of thing.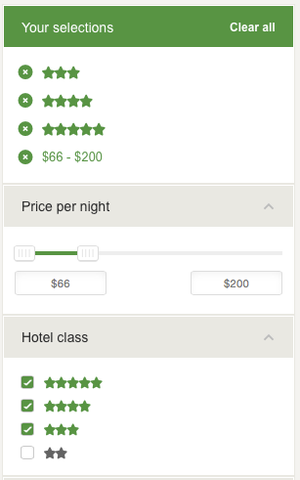 Now that you've selected the hotel class, you will see the list of hotels shuffle again. Personally, I will never consider a two star hotel, unless the budget absolutely does not allow it. Which might be the case over New Year's Eve in Nashville.  But, I can probably find something worthwhile. It is not often I find a four or five star hotel in the range of the business travel budget when clients are paying, but I will try because they occasionally surprise me with a deal (or a steal).
Step 7: Review Hotels 
Your list is now properly sorted and filtered to the right level and all it took was a few choices and a handful of clicks. There is a caution for you here.  Be wary of the first listing or two. These are usually ads and are not part of your search criteria. You can see the 'sponsored' hotel at the top of the list in the picture below.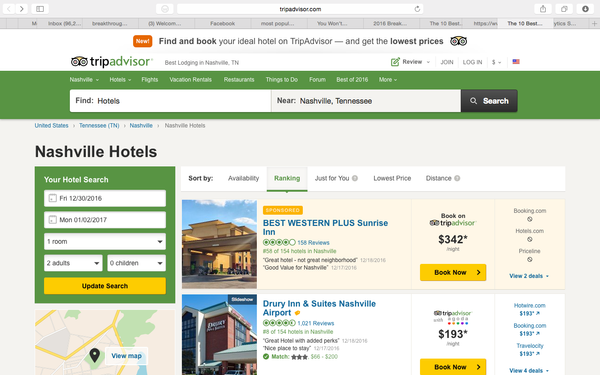 Just ignore this listing. It is likely too expensive and actually a lower ranked hotel. As in the case of the picture above, the Best Western Plus is way out of my $200 maximum price and it is also #58 on the ranking for guest satisfaction... Not a great option in my book.
So, just scroll past that ad and look at the list of options you have to consider.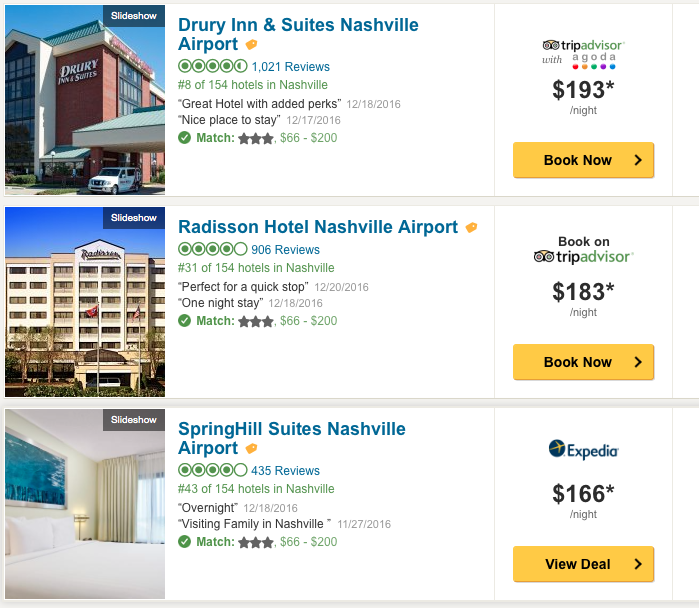 You have three great hotels and one is a real stand out.  The Drury Inn and Suites is ranked as the #8 hotel in Nashville by guests who have stayed there. And, it meets all my criteria.  It is a 3 star or above, under $200, with availability on my travel dates.
I will scan quickly through the other options, but as you can see in this case, the second option is #31 and only save me $10 while the third option is #43 of 154 hotels (think of that being like a 72% on a test -- passing, but not something to brag about). So, I can very quickly decide on the Drury Inn and Suites.
But, there are two more things to do before you put your money on the table.
Step 8: Check the Ratings
President Ronald Reagan gave us some great advice back in the 1980s, "Trust but verify."  I do exactly that. You can do the same by clicking through to see the actual page on TripAdvisor for the hotel of your choosing. There is a lot of information on this page. Most of it can be ignored unless you're a nerd.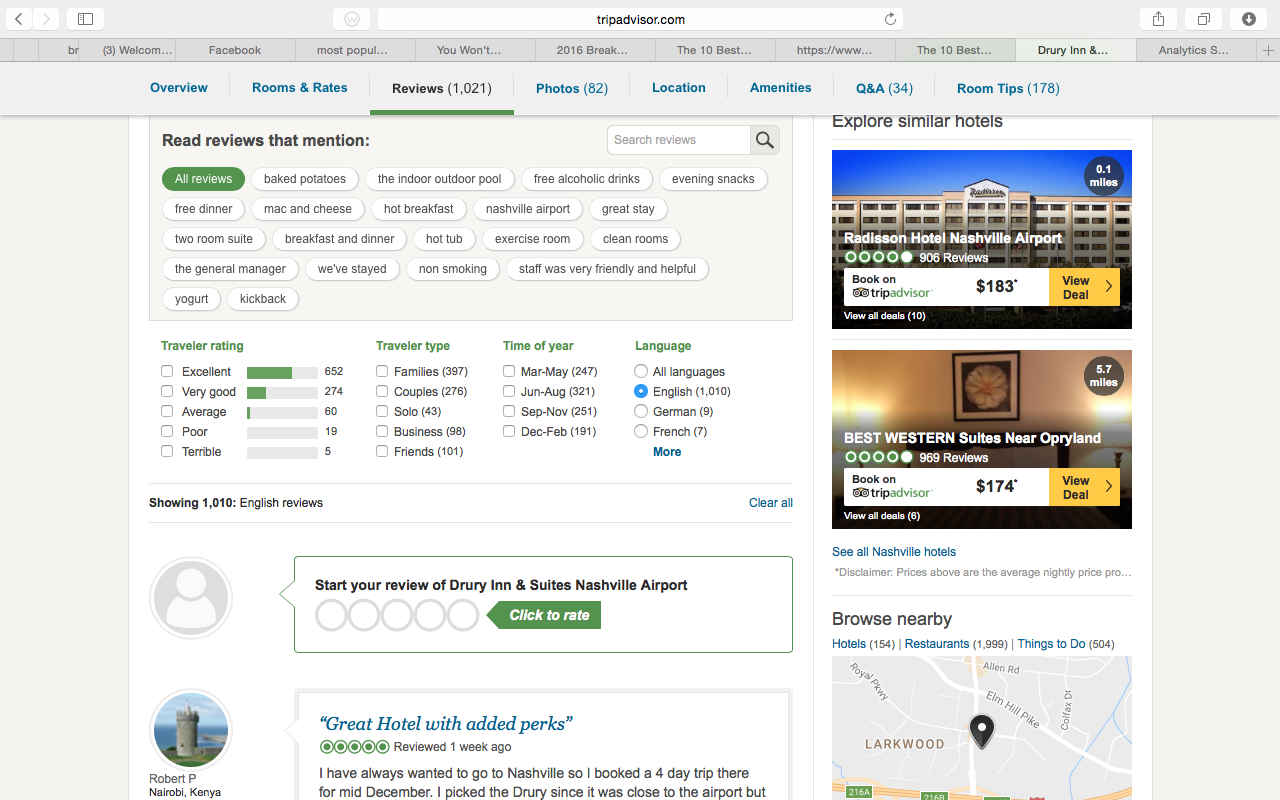 What you really want to pay attention to is the 'Traveler rating' section.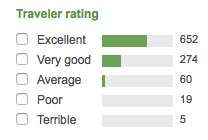 This section shows you a visual indication of the distribution of reviews by level. In this case, 64% of the guests gave an 'Excellent' rating and another 27% gave a 'Very Good' rating. In total about 91% of guests thought this hotel was better than they expected. Why do I say this? Because in the millions of hotel reviews I have analyzed over the last ten years, I found consistently that an 'Average' rating really means 'I got what I paid for,' whereas 'Excellent' means, 'Wow! They went out of their way and the employees here are amazing.' If you're interested, 'Very Good' usually means that there was some sort of minor unexpected problem and/or the staff was just good and not great.
Step 9: Read the Reviews
The last step of the decision-making process involves reading the reviews. I usually scan quickly to see a few things:
Are the reviews recent?
Are the recent reviews highly rated?
Do I love the things that these guests rated highly?
Can I tolerate what these guests rated low?
Do these reviews 'feel right' or do they seem to be fake?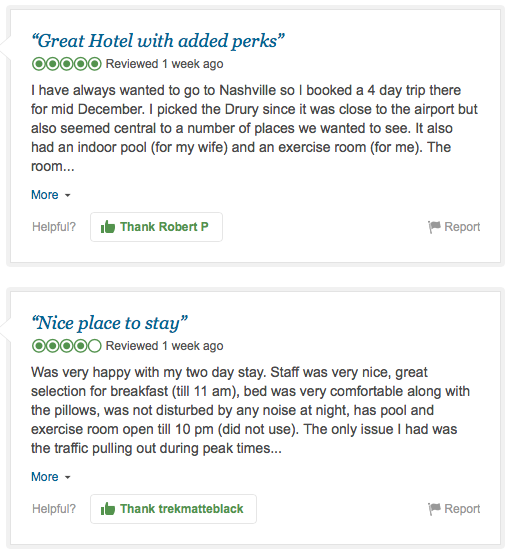 Once I satisfy my curiosity, which usually takes a scan of the first ten to fifteen reviews and an in depth reading of a few of the best reviews and one or two of the recent low-rated reviews, I make the decision if this hotel is right for me or if I want to start the process over again.
Step 10: Book the Room
Pull out your credit card and place your reservation. 
This process is quick and has provided me with consistently excellent rooms for years. I hope you find it effective too.
If you would like to read more about some of the discoveries my team and I have made in the ten years of customer feedback research we've done in a variety of fields, you can check out my
cases studies
or even read
my #1 best selling book
. 
***  
Tony Bodoh is the co-author of the #1 best selling book, "The Complete Experience: Unlocking the Secrets of Online Reviews that Drive Customer Loyalty" and he is the creator of the 30 Day CX Challenge where employees quickly learn how to really listen for the hidden patterns in what customers say or write and then how to effortlessly act to evoke a 5-Star customer experience.